Fluke 750P31 Differential Pressure Module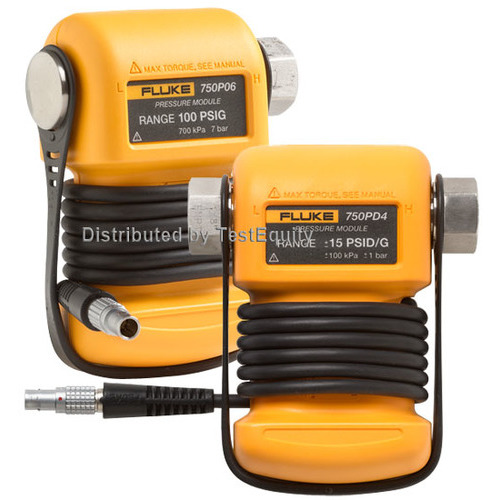 Condition:

New

Drill Down Description:

Differential Pressure Module

Model:

750P31

Quote Required:

No

Web Meta Description:

Fluke 750P Series Pressure Modules Precision pressure measurement for 75X and 720 series calibrators.

S3 Part Number:

27123.1
FLUKE 750P31
A family of 56 pressure modules covering pressure calibrations from 0 to 1 in H20 to 10000 psi (2.5 mBar to 690 bar):
0.025 % reference uncertainty
6-month and 1-year specifications
Temperature compensated 0°C to 50°C
Digital communication to calibrators, no analog losses or errors
Broad selection of ranges and measurement models:
Quick and Easy Measurements
Fluke 750P Series Pressure Modules are easy to use. To measure pressure, connect the pressure module to a pressure source or hand pump and then connect the pressure module cable to the calibrator. Apply pressure from the pressure source and it is displayed digitally on the calibrator. At the touch of a button, the pressure may be displayed in up to 11 different engineering units. When used with the 750 Series Documenting Process Calibrators, pressure readings can be date/time stamped and stored electronically for later retrieval. This saves time, eliminates errors, and supports compliance with quality standards and regulations.
Gage pressure modules have one pressure fitting and measure the pressure with respect to atmospheric pressure. Differential pressure modules have two pressure fittings and measure the difference between the applied pressure on the high fitting versus the low fitting. Each module is clearly labeled for range, over-pressure and media compatibility. All modules include NPT, metric (BSP) and M20 adapters.
Pressure module performance and technology
Fluke 750P Series pressure modules are highly accurate, with specifications that apply from 0°C to 50°C (32°F to 122°F), a feature that sets them apart from other pressure calibrators. Many ranges have total uncertainties of 0.04% of full scale and reference uncertainties of 0.01% of full scale (see Data Sheet).
The 750P Series' innovative design provides several benefits:
Digital communication eliminates errors from poor connections and electrical interference
The 750P Series modules are inherently temperature compensated from 0°C to 50°C (32°F to 122°F)
The 750P Series modules are interchangeable, can be used with 740, 750 or compatible 720 or 710 series calibrators
Sensor protection in isolated modules
Rugged construction
Convenient setup