Fluke 9170 Field Metrology Well Calibrator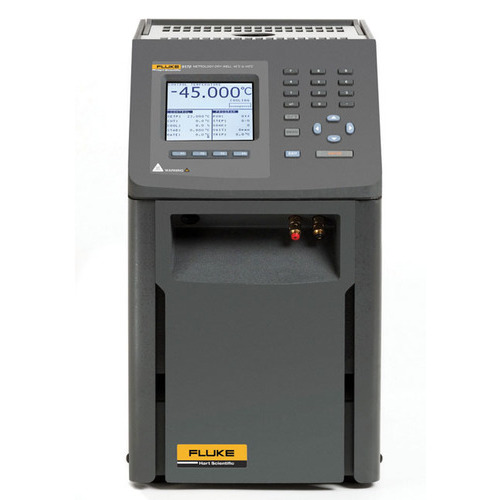 Condition:

New

Drill Down Description:

Field Metrology Well Calibrator

Model:

9170

Quote Required:

No

Web Meta Description:

Fluke 9170 Field Metrology Well Calibrator measures from -45°C to 140°C.

S3 Part Number:

27189.1
9170-E-R-156
-45°C to 140°C (-49°F to 284°F)
Top-performing industrial heat sources (accuracy, stability, uniformity)
Immersion depth to 203 mm (8 in)
Optional ITS-90 reference input reads PRTs to ±0.006°C
Well depth: 160 mm (6.3 in)
Cools from 23°C to -45°C: 44 min. - From 140°C to 23°C: 19 min.
Heats from 23°C to 140°C: 32 min. - From -45°C to 140°C: 45 min.
Interface: RS-232 Interface with 9930 Interface-it control software included
Accurate enough for lab use, and rugged and portable enough to take anywhere
The Model 9170 achieves very low temperatures, reaching -45°C in normal room conditions. The 9170 is stable to ± 0.005°C over its full temperature range (up to 140°C) and has 160 mm (6.3 in) of immersion depth. With axial uniformity of ±0.02°C and radial uniformity of ±0.01°C, the 9170 delivers exceptional uncertainty budgets and is perfect for a variety of pharmaceutical and other applications. And Metrology Wells are small enough and light enough to go anywhere.
Fluke has combined bath-level performance with dry-well functionality and legitimate reference thermometry
Dry-wells are typically calibrated by inserting a calibrated PRT into one of the wells and making adjustments to the calibrator's internal control sensor based on the readings from the PRT. This has limited value because the unique characteristics of the reference PRT. Metrology Wells are different. Temperature gradients, loading effects, and hysteresis have been minimized to make the calibration of the display much more meaningful. Learn more from Fluke's Application Note: "Understanding the uncertainties associated with the use of Metrology Wells" as it covers important topics:
Stability
The Fluke 9170 is stable to ±0.005°C over its full range
Axial uniformity
The Fluke 9170 offers dual-zone control and more well depth than dry-wells
Radial uniformity
The 9170 provides radial uniformity of ±0.01°C

Loading:
The 9170 uses proprietary dual-zone controls
Hysteresis
the difference in a Metrology Well's actual temperature resulting from the direction from which that temperature was approached
Immersion depth:
aids in minimizing axial gradient and loading effects
Other great features
A large LCD display, numeric keypad, and on-screen menus make use of Metrology Wells simple and intuitive. The display shows the block temperature, built-in reference thermometer temperature, cutout temperature, stability criteria, and ramp rate. The user interface can be configured to display in English, French, or Chinese. In addition the 9170 comes with an RS-232 serial interface and the Model 9930, Interface-it software. It is also compatible with Model 9938 MET/TEMP II software for completely automated calibrations of RTDs, thermocouples, and thermistors.
Inserts
Any of six standard inserts may be ordered with each unit, accommodating a variety of metric- and imperial-sized probe diameters.


Built-In Reference Thermometry
Optional proprietary Tweener measurement circuitry available directly in a heat source — Fluke Metrology Wells. This optionally built-in input accepts 100-, 25-, and 10-ohm PRTs. It reads thermometer probes accurately from ±0.006°C at 0°C to ±0.027°C at 661°C, not including errors from the probe. It is compatible with every PRT sold by Fluke Calibration and connects to Metrology Wells via a 5-pin DIN connector. Available on -R models.