Fluke 1732 Three Phase Electrical Energy Logger
Condition:

New

Drill Down Description:

Three Phase Electrical Energy Logger

Model:

1732

Quote Required:

No

Web Meta Description:

Fluke 1732 Three-Phase Electrical Energy loggers introduce a new simplicity to discovering sources of electrical energy waste.

S3 Part Number:

28429.1
Measures three phases and logs voltage, current, power, power factor, energy values
Convenient instrument powering: Power instrument directly from the measured circuit
Comprehensive logging: More than 20 separate logging sessions can be stored
Bright, color touch screen enhancing 1732's full graphical display
Optimized user interface and intelligent verification function
Easy in-field setup through front panel or Fluke Connect App
Energy Analyze Plus application software for automated reporting
600 V CAT IV/1000 V CAT III
Fluke Connect® compatible (Optional)
Replaces 1730 Three-Phase Energy Analyzer
Instrument warranty (excluding battery): two years
Automatically capture and log voltage, current, power, power factor, energy and associated values.
The new Fluke 1732 Three-Phase Electrical Energy logger introduces a new simplicity to discovering sources of electrical energy waste. Discover when and where energy in your facility is being consumed; from the service entrance to individual circuits. Access and share data remotely with your team via the Fluke Connect® app so you can maintain safer working distances and make critical decisions in real-time, reducing the need for protective equipment, site visits and check-ins.
Discover where you're wasting energy, optimize your facility's energy use and reduce your bill
Profiling energy usage across your facility helps you identify opportunities for energy savings, and provides you with the data you need to act on them. The new Energy Analyze software package allows you to compare multiple data points over time to build a complete picture of energy usage, which is the first step to reduce the cost of your energy bill.
Applications include: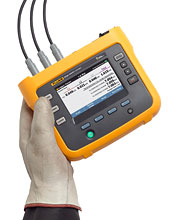 Load Studies
Discover how much energy individual pieces of equipment are consuming when they are operating at minimum and maximum capacity.
Energy Assessments
Quantify energy consumption before, and after improvements
Energy Surveys
Compare the power and energy measured here with the readings from the utility meter to ensure you're receiving the correct charges, then move downstream to the larger loads.
Power and Energy Logging
Measure, characterize, and optimize peak demand and power factor.
Facilitate simplified load studies
Use a current-only measurement when it's either difficult or impractical to make a voltage measurement
Easy to use
The 1732 automatically detects and scales the four separately current probes. The thin current probes are designed to easily get through tight conductor spacing and are easily set to 150 or 1500 A for high accuracy in nearly any application. An innovative tangle-free flat voltage lead makes connection simple and reliable and the 1732's intelligent "Verify Connection" feature automatically checks to make sure the instrument is connected correctly and can digitally correct common connection issues without having to disconnect measurement leads. The detachable power supply can be conveniently and safely powered directly from the measured circuit — no more searching for power outlets or having to run multiple extension cords to the logging location.
| | | | | |
| --- | --- | --- | --- | --- |
| Fluke 1732?/?1734 Three-Phase Electrical Energy Loggers | 1732/B (Basic) | 1732/EUS | 1734/B (Basic) | 1734/EUS |
| Fluke Connect module support (up to 2 modules) | Opt. | Opt. | Y | Y |
| WiFi download of instrument data | Y | Y | Y | Y |
| WiFi and BLE adapter | Opt. | Opt. | Opt. | Y |
| 173x-Hanger kit | Opt. | Opt. | Y | Y |
| MP1-Magnet Probe | Opt. | Opt. | 4 | 4 |
| i173X-flex1500 | Opt. | 3 | Opt. | 3 |
Use up to two Fluke Connect wireless modules with the Fluke 1734 to capture analog measurements. Fluke Connect info >>
Included with Fluke 1732/B: power supply, voltage test leads, four (4) alligator clips, soft case, Energy Analyze Plus software, magnetic hanging strap, magnetic four (4) voltage probes, WiFi/BLE adapter, line cords, color coding set and documentation on USB flash drive. 1734/EUS also includes three (3) i173X-flex1500 12" 1,500 A flexible current probes.