TestEquity FOV2 Forced Air Oven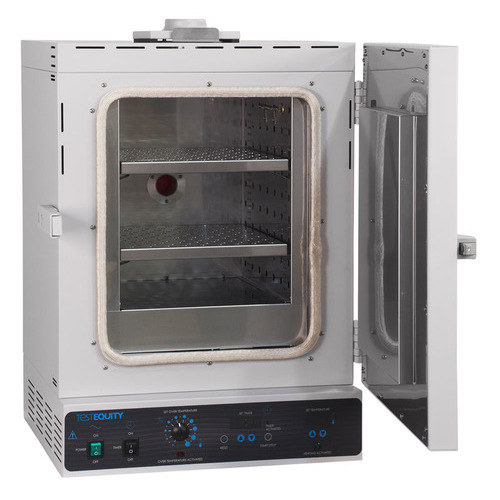 Condition:

New

Drill Down Description:

Forced Air Oven

Input Voltage:

120V, 60Hz, 1 PH

Model:

FOV2

Product Code:

chamber

Quote Required:

No

Temperature, Highest:

+306C

Web Meta Description:

TestEquity FOV2 Forced Air Oven, Horizontal convection, to +306C, fast delivery from stock.
Additional shipping charges will be applied after checkout
FOV2: 1.39 Cu Ft
Fast ramp-up to 306°C for faster cycle times.
Temperature range approximately 20°C above ambient to 306°C for multiple applications.
Advanced PID temperature control system for sensitive response.
Built-in digital timer for automatic operation following manual start.
Independent overtemperature setpoint and operational control override for additional safety.
Forced-air circulation to assure maximum temperature uniformity.
Triple-wall construction to minimize external surface temperature.
Stainless steel shelves (2), adjustable on 0.5" (12.7mm) centers for flexible loading options.
Interior: 400 Series Stainless Steel; Exterior: 20 gauge steel, powder coated
Rear access port, 1.75" diameter (4.4cm) for independent cables, instrumentation.
Exhaust port, 3" diameter (7.6cm), adjustable, with external connection to customer-supplied vent for effluent exhaust if required.
NRTL Listed by TUV to meet CAN/CSA, UL, IEC 61010, and compliant with CE
3 Year Parts, 1 Year Labor Warranty
Made in USA
Note: Ovens are not designed for testing energized products. They are not capable of cooling. See TestEquity temperature chambers for products with cooling capability.
Control, Timer Program and Monitoring
The advanced loop PID (proportional, integral, derivative) controller commands proportional power to the heating element to provide the most accurate and responsive control. Each controller is matched to the oven size to assure faster response to setpoint without overshoot, and quicker recovery following door openings. The on-board timer permits programmed dwell cycles with automatic shut-off for custom applications. Indicator lights are included for visual status feedback on critical functions.
Integrated Control Panel
All controls are centrally located on the main panel including manual power and timer on/off switches, independent overtemperature control, digital temperature and timer setpoint adjustments, and indicator lights for all functions.
DIN 12880 Compliance
TestEquity FOV Series ovens are designed to meet or exceed the performance criteria established through DIN 12880:2007:05 and ASTM E145-94 (Reapproved 2006.) These criteria set common standards for laboratory oven performance in heat-up, temperature uniformity and door-open recovery time. Confirmation of temporal and spatial performance is achieved by testing with multi-point temperature probes strategically positioned throughout the oven chamber interior, including center point positions where stability, equilibrium and setpoint control are required.
Applications:
Aging
Asphalt Testing
ASTM, UL and Life Testing
Baking, Conditioning, Curing
Burn-in
Drying
Curing
Moisture and Stability Testing
FOV2
FOV3
FOV5
Interior Dimensions (W x D x H)
12.1" x 13.7" x 14.5"
16.5" x 16.2" x 19.5"
21.0" x 19.4" x 20.7"
Exterior Dimensions (W x D x H)
22.7" x 23.5" x 31.5"
26.9" x 28.6" x 34.0"
31.4" x 28.1" x 38.8"
Shelves
2 included
2 included
2 included
Maximum Weight Per Shelf
50 lbs each shelf
Permitted Test Load
100 lbs
200 lbs
Net Weight Empty with 2 standard shelves
127 lbs
171 lbs
208 lbs
Shipping Weight
167 lbs
216 lbs
258 lbs
Electrical, 110V-120V, 50/60Hz, AC, Single Phase
Full Load Amps
12A
14A
14A
Nominal Power (watts @150°C)
650W
675W
700W
Recommended Breaker, Amps
15A
NEMA Plug Supplied
5-15P
Energy Consumption (kWh/day)
At 80°C
6.5
7.2
7.5
At 150°C
12.4
13.1
13.5
At 306°C
19.8
23.5
23.8
Temperature Range 20°C above ambient to 306°C
Heat up time from ambient to 80°C
8 min
6 min
9 min
Heat up time from ambient to 150°C
20 min
27 min
28 min
Heat up time from ambient to 306°C
52 min
124 min
130 min
Recovery after Door Opening (30 sec.) to 80°C
1.5 min
1.5 min
2 min
Recovery after Door Opening (30 sec.) to 150°C
4.5 min
2 min
4 min
Recovery after Door Opening (30 sec.) to 306°C
14 min
18 min
45 min
Recovery after Door Opening (60 sec.) to 80°C
4 min
2 min
3.5 min
Recovery after Door Opening (60 sec.) to 150°C
6 min
4.5 min
6 min
Recovery after Door Opening (60 sec.) to 306°C
20 min
36 min
57 min
Temperature Uniformity
At 80°C
1.0°C
1.0°C
0.75°C
At 150°C
2.25°C
1.75°C
1.75°C
At 306°C
4.7°C
5.0°C
4.5°C
Ventillation
Air Changes/Hr @80°C
330
225
180
Velocity
5.6 cfm
11.3 cfm
15.2 cfm