TestEquity FH5 Forced Air Oven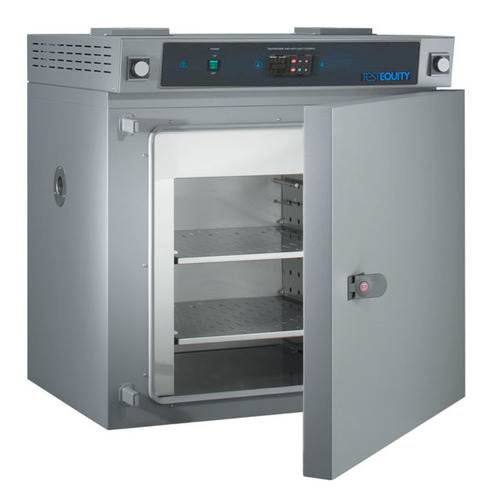 Condition:

New

Drill Down Description:

Forced Air Oven

Input Voltage:

230V, 60Hz, 1 PH

Keywords:

forced, air, oven, horizontal, airflow, programmable, vent, drying, forced, air, convection, testequity, test, equity

Model:

FH5

Product Code:

chamber

Quote Required:

No

Temperature, Highest:

+300C

Web Meta Description:

Horizontal convection, 4.9 Cu Ft, to to +306C

S3 Part Number:

51588.1
Additional shipping charges will be applied after checkout
Description
Technical Manuals
Heating to 306°C Temperature
40-Step Programmable Ramp & Soak Controller
Adjustable Overtemperature Limit
Type-430 Mirror Finish Stainless Steel Interior
Durable Powder-Coat Paint Exterior Finish
Horizontal Airflow, Forced Air Convection
Exceptional Temperature Uniformity
Air Intake and Exhaust Ports
Two-Inch Feedthrough Port on Left Side
Includes 2 Adjustable Stainless Steel Shelves
Fast Delivery From Stock
3 Year Parts, 1 Year Labor Warranty
Made in USA
Note: Ovens are not designed for testing energized products. They are not capable of cooling. See
TestEquity temperature chambers
for products with cooling capability.
TestEquity FH5 High Performance Oven is engineered to meet the most critical temperature requirements. They are designed for continuous drying operations at temperatures up to 306°C. Factory-set overtemperature protection prevents control failure from damaging contents and guards against burnout. The Watlow controller is capable of a 40 step ramp and soak profile, or 4 files with 10 steps per file. Time and temperature are displayed in a three-digit LED readout for fast and accurate setting. Horizontal air flow provides fast heat-up and recovery and ensures rapid drying. Heated air is continuously circulated by twin turbo blowers. Blowers also circulate air to motor bearings to prolong motor life. The stainless steel shelves are adjustable. Adjustable air intake and exhaust ports can be opened for fast drying of high-moisture content samples.
A high temperature gasket door seal eliminates air leakage and ensures longer gasket life while being subjected to extreme operational temperatures. This unit includes long-lasting, low-watt density heating elements. It also has adjustable heavy-duty hinges and a door latch that are designed for lifetime service.
Includes two adjustable shelves. Power cord and plug is NOT included and must be provided by the customer.
SPECIFICATIONS
EXTERIOR DIMENSIONS
(W × D × H) 35 × 30 × 37.6
INTERIOR DIMENSIONS
(W × D × H) 20.5 × 20.7 × 20
VOLUME
4.9 cu.ft. (139 L)
SHELF DIMENSIONS
(W × D) 20.1 × 20.1
UNIT WEIGHT
325 lbs
INTERIOR METAL
300 Series Stainless Steel
EXTERIOR METAL
Painted cold roll
OPERATING TEMPERATURE RANGE
20°C over ambient to 306°C
TEMPERATURE UNIFORMITY
2°C @ 150°C
HEATUP TIME (empty)
to 80°C, 10 minutes
to 150°C, 22 minutes
to 306 °C, 35 minutes
RECOVERY TIME
(30 second door opening)
to 80°C, 4 minutes
to 150°C, 5 minutes
to 306 °C, 5 minutes
AIRFLOW
7.6 CFM @ 80°C
AIR CHANGES PER HOUR
93
AIR VELOCITY ACROSS SHELF
145 Linear Feet/Minute
TEMPERATURE STABILITY
0.3°C @ 150°C
CONTROLLER TYPE
Watlow EZ-Zone
RESOLUTION
0.1°C
INPUT POWER
220 to 240 VAC, 50/60 Hz, 12.0 Amps
MAX HVAC LOAD
9.7K BTUs/hr
SAFETY CERTIFICATIONS
TUV listed to UL 61010-1, EN 61010-1, CSA 61010-1, CE
Note: Ovens are not designed for testing energized products. They are not capable of cooling. See TestEquity temperature chambers for products with cooling capability.