Aim-TTi EL303R Bench DC Power Supply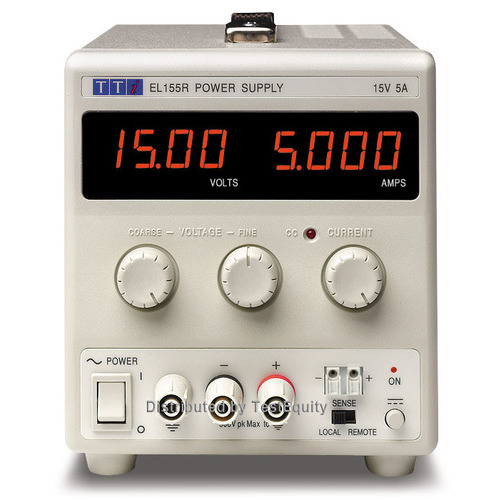 Condition:

New

Drill Down Description:

Bench DC Power Supply

Model:

EL303R

Quote Required:

No

Web Meta Description:

The EL303R is a 90 Watt bench DC power supply with linear regulation and analog controls.

S3 Part Number:

26510.1
Single output: 0 to 30 V, 0 to 3 A, 90 W Linear regulated with low ripple and noise Analog Controls Constant voltage or constant current 4 digit meters with 10 mV and 1 mA resolution Switchable local or remote sensing Compact design uses less bench space Silent fan-free cooling DC output switches, automatic mode indication Three-year warranty
Precision with Simplicity
The 90 Watt EL303R has been developed from the popular EL series. By adding four digit meters and switchable remote sensing, the EL303R offers much higher precision while retaining the simplicity of operation.
EL-R Series Linear Regulated Precision DC Bench Power Supplies: Eight models, single, dual and triple outputs, 30 to 130 watts
The EL-R series is the ideal solution for users requiring a good quality manual control, linear regulated bench power supply of low to medium power. The EL-R series offers dual displays, high resolution control and metering, remote sensing, dc output switches and silent fan-free operation.
EL-R Series – Power, Precision Simplicity
Model
Output 1
Output 2
Output 3
Power
EL301R
30V/1A
30W
EL183R
18V/3.3A
60W
EL302R
30V/2A
60W
EL561R
56V/1.1A
60W
EL155R
15V/5A
75W
EL303R
30V/3A
90W
EL302RD
30V/2A
30V/2A
120W
EL302RT
30V/2A
30V/2A
1.5 - 5V/2A
130W
Linear Regulation
Excellent line and load regulation is matched by very low output noise and good transient response.
Four-digit Meters
Separate voltage and current meters on each mail output with a resolution of 10mV and 1mA.
Remote Sensing
Each main output incorporates remote sense terminals that can be enabled or disabled with the flick of a switch.
Constant Voltage or Constant Current
Each main output can operate in Constant Voltage or Constant Current mode — with automatic crossover and mode indication.
Safety Binding-post Terminals
These new TTi-designed output terminals can accept a 4mm safety plug with a rigid insulating sleeve.