Aim-TTi PLH250 DC Power Supply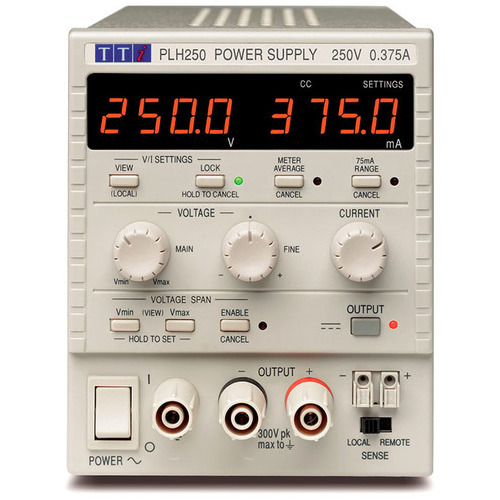 Brand:

Aim-TTi

Condition:

New

Family Models:

PLH250, PLH250-P, PLH250-P(G)
94 Watts; 0V to 250V, 0.01mA to 0.375A
Linear regulation for the best performance
S-Lock digitally locks voltage and current settings
True analog controls make adjustment quick and simple
V-Span enables the full 300° rotation of the voltage control
Ultra-compact design - requires less space
DC output switches and "view limits" button
Selectable remote sense terminals
Three-year warranty
Analog controls with digital stability
The PLH Series is the latest high-performance linear regulated dc power supply range from TTi. It is based on the PL Series of lower voltage precision linear power supplies (which offers up to 60V) and has an identical casing style and similar power output. However, certain features relevant to the higher voltage are different. The PLH series incorporates S-Lock. One press of the Lock button transfers control of voltage and current from the analog controls to internal digital circuitry.
Linear regulation for ultra-low noise
Linear regulation offers the highest possible performance, and the compact quarter-rack width design provides an impressive 94 watts of power. A low current range provides 0.01mA resolution. Despite the high output voltages, the PLH series maintains output noise figures of below 2mV, and transient recovery times of better than 250μs. In addition, the lack of a high frequency switching circuit reduces radiated noise and common mode signals enabling the PLH series to be used in sensitive environments.
V-Span (Voltage Span Control) and S-Lock
The voltage adjustment range can be controlled by digital setting of the end-stop values of the coarse voltage control to any desired values. The range for Vmax is 1V to 250V. The range for Vmin is 0 to (Vmax – 1V). The PLH250 models also incorporate S-Lock. One press of the Lock button transfers control of voltage and current from the analog controls to internal digital circuitry. This offers not just complete security, but exceptional stability as well with each setting controlled by an instrumentation quality DAC.
Isolated Analog Remote Control
PLH-P units include isolated analog voltage control of both voltage and current. Analog control outputs (non-isolated) are also incorporated to enable easy parallel connection of multiple units in a master-slave configuration. Terminals for remote on/off control are also provided.
Bench and System use
The PLH-P series includes all of the manual control features of the PLH series, but adds comprehensive remote control facilities. The ultra-compact rack-modular sizing makes it ideally suited to rack mounted system applications, while its user-friendly manual controls are retained for bench top applications. PLH-P series units have the same comprehensive set of interfaces as the PL-P, but with electrical isolation of the analog inputs. Additional PLH250-P, PLH250-P(G) features:
PLH-P, PLH-P(G): Comprehensive Array of Interfaces
RS-232, USB and LAN (Ethernet) with LXI support are provided as standard, with GPIB an option. Each provides full control of voltage, current, and output on/off, plus read-back of voltage, current and status. The interfaces are opto-isolated from the output.
Full digital remote control and readback
RS-232, USB and LAN (Ethernet), GPIB optional
LAN Interface conforms with LXI standard
IVI Driver supplied
Interfaces are opto-isolated from outputs
Isolated Analog remote control of V and I
Front and rear terminals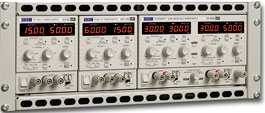 Rack Mounting
Up to four single output units can be fitted into one rack width. Alternatively, where PLH units are being used along side New PL units, a combination of singles and duals can be used i.e. one dual plus up to two singles. The TTi RM450 rack mount is 4U high and incorporates limited ventilation space above and below the power supplies. Blanking plates are provided for unused positions.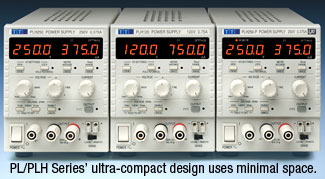 | Model | Voltage/Current | Power | Interfaces |
| --- | --- | --- | --- |
| PLH120 | 0V to 120V, 0.01mA to 0.75A | 90 W | - |
| PLH250 | 0V to 250V, 0.01mA to 0.375A | 94 W | - |
| PLH120-P | 0V to 120V, 0.01mA to 0.75A | 90 W | RS232/USB/LAN |
| PLH250-P | 0V to 250V, 0.01mA to 0.375A | 94 W | RS232/USB/LAN |
| PLH120-P(G) | 0V to 120V, 0.01mA to 0.75A | 90 W | RS232/USB/LAN/GPIB |
| PLH250-P(G) | 0V to 250V, 0.01mA to 0.375A | 94 W | RS232/USB/LAN/GPIB |