Aim-TTi QPX600DP DC Power Supply, Programmable
Brand:

Aim-TTi

Condition:

New

Family Models:

QPX600D, QPX600DP
Dual independent or tracking 600 watt outputs Ultra-wide range of voltage/current combinations Up to 80V and up to 50A within each 600W power envelope (NOTE: Volts x Amps for each output cannot exceed 600 Watts) Isolated tracking of voltage only, or voltage and current Smart metering and tracking functions facilitate series or parallel wiring for up to 160V or 100A Low output noise and ripple High setting resolution of 1mV Variable OVP and OCP trips Analog control interfaces for voltage and current GPIB, RS-232, USB and LAN (LXI) interfaces (QPX600DP)
The QPX600D is a dual output dc power supply with a maximum total output power of 1200 watts (600 watts each output) and is suited to both bench-top and system applications. The QPX600DP incorporates full digital remote control using USB, RS-232, LAN and GPIB interfaces. Both models include analog remote control.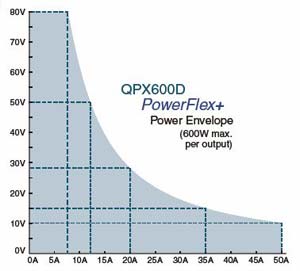 PowerFlex+
The QPX600D is a different type of laboratory power supply designed to meet the need for flexibility in the choice of voltage and current. A conventional PSU has a fixed current limit giving a power capability that reduces directly with the output voltage.
The Aim-TTi PowerFlex design of the QPX600D enables higher currents to be generated at lower voltages within an overall power limit envelope. Each output can provide more than six times the current of a conventional PSU of the same maximum voltage and power (see power curve).
PowerFlex+ uses a balanced multi-phase converter system to minimize ripple and improve dynamic performance.
Example voltage/current combinations include 80V/7.5A, 60V/10A, 40V/15A, 28V/20A, 18V/30A and 10V/50A.
Dual independent or tracking outputs
The QPX600D can be operated as two entirely independent power supplies, each with its own comprehensive graphic LCD display. Alternatively multiple isolated tracking modes are available including ones intended for series and parallel operation which provide metering of total voltage or total current respectively.
Independent or simultaneous output control
The "Both On" and "Both Off" buttons are in addition to the individual switches for each output, and allow both outputs to be turned on or off synchronously by a single button press. Synchronous switching of the outputs is of increasing importance for circuitry which can lock-up or even be damaged if one voltage rail is present without the other.
Bench or rack mounting
The QPX600D is housed in a 350mm (13.75") wide case suitable for use on the bench-top. Output and remote sense terminals are mounted both on the front and on the rear panel along with the analog and logic interface connectors and, on the QPX600D, the bus interface connectors. A rack mounting kit is available as an option (requires 4U of rack space).