Aim-TTi TGP3151 Pulse and Universal Generator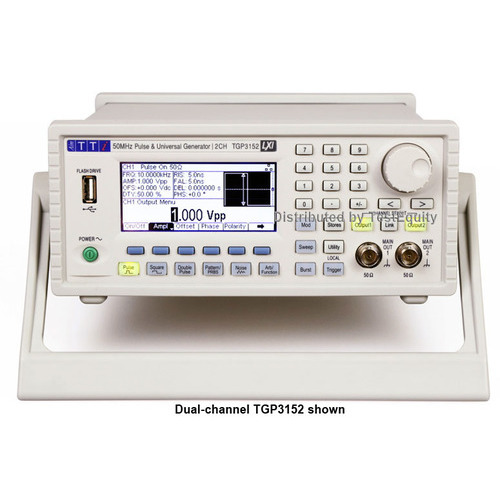 Brand:

Aim-TTi

Condition:

New
Single-channel Pulse waveforms from 1 mHz to 50 MHz, minimum rise time 5ns Pulse, double pulse, pulse pattern and PRBS waveforms Pulse period, width and delay resolutions of 100ps or 11 digits Independently variable rise and fall times from 5ns to 800 seconds Low jitter asynchronous operation, externally triggered pulses or pulse reconstruction High drive capability output can provide 20V pk-pk into 50 Ohm (unmatched) Wide range of pulse modulations including AM.FM, PM, FSK, BPSK, SUM, PWM, PDM using internal or external modulation sources Triggered (burst count) or gated operation using internal or external trigger sources Full Noise generator to 25 MHz with selectable crest factor and user defined distribution Full Arbitrary/Function generator with 16 waveform types Sine waves up to 50 MHz Arbitrary waveforms at 800 MS/s sampling rate and 16-bit vertical resolution Extensive internal/external modulation of all waveform types Linear and logarithmic sweeps of all waveform types Front panel mounted USB Flash drive interface USB and LXI compliant LAN interfaces standard GPIB with optional TG GPIB GPIB Interface Kit Three-year warranty
True Pulse Generators
The TGP3151 is a true pulse generator using all digital techniques. It can replicate the capabilities of traditional pulse generators while adding many additional facilities such as pulse modulations.
Unlike DDS based function generators the TGP3151 can generate pulses up to 50 MHz with very low jitter and high resolution of width and delay (100ps). It can also operate in an asynchronously triggered mode with low jitter.
A high drive capability output stage enables up to 20 volts pk-pk to be driven into a 50 Ohm load.
Universal Waveform capabilities
As well as operating as pulse generators, the TGP3151 can act as high performance noise generator and as function/arbitrary generator — making it a truly universal waveform generator.
Noise Generator
As a noise generator, the TGP3151 offers fully variable noise bandwidth from 1 mHz up to 25 MHz. Noise amplitude distribution can be Gaussian (with variable crest factor) or fully user defined.
Function Generator
The TGP3151 can operate as a 50 MHz high performance function generator. Sixteen included standard waveforms include sine, square, triangle, ramps, sinc, cardiac, plus logarithmic, exponential and Gaussian shapes.
Arbitrary Generator
With an 800MS/s sample clock, the TGP3151 can perform as high speed arbitrary generator with 16-bit vertical resolution and up to 4096 waveform points.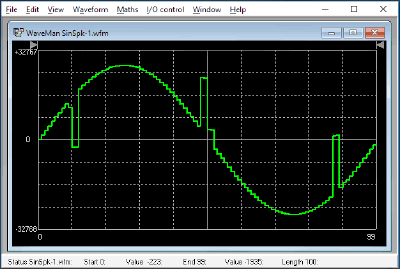 Windows-based Waveform Manager Plus is highly flexible and can be used to create arbitrary generator waveforms from signals captured by instruments such as oscilloscopes and network analysers, or from software such as MathCad.
Applications include:
Stress testing designs adding defined jitter and or delay
Clock frequency simulation, with glitch-free pulse parameter changes
Data sequencing patterns for Serial data testing (Pattern Generation)
Asynchronous pulse signal conditioning
Op Amp slew rate and asymmetrical characterisation
Propagation delay testing
Waveform Manager Plus
Waveform Manager Plus (version 4) is a Windows® based application for creation, editing and management of arbitrary waveforms and pulse patterns using a PC. Any instrument or waveform generating program that can create a list of Y values can therefore be accommodated.
It incorporates a complete suite of tools for waveform creation and editing including standard waveforms, mathematical expressions and freehand drawing.