Amprobe IR-710 Infrared Thermometer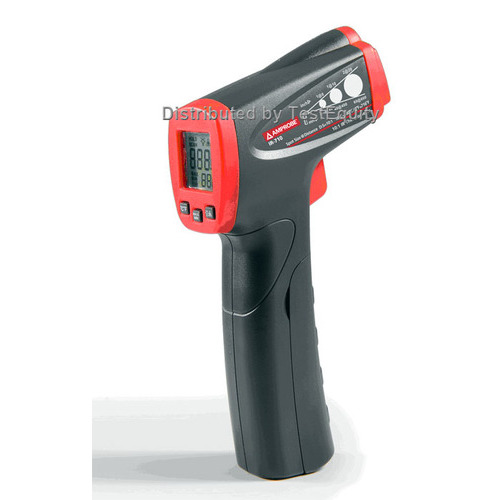 Brand:

Amprobe

Condition:

New
Extremely accurate and reliable Precision measurement with distance to spot ratio from 10:1 to 50:1 Wide temperatures ranges available up to -50 °C to 1550 °C (-58 °F to 2822 °F) Rapid response time Laser pointer for accurate targeting 8 seconds auto display hold easy read-out Adjustable emissivity for measuring a variety of materials Dual LCD Display with backlight Selectable °F and °C Stores up to 99 data points (IR-750) Thermocouple input (IR-750) USB interface(IR-750) 1-Year warranty
A Wide Range of Optics and Precise Temperature Measurements
The Amprobe IR-700 infrared thermometer series is a complete line of high performance diagnostic tools. With a broad range of optics and precise temperature measurements, you can count on these IR-guns to provide an easy-to-navigate selection for HVAC/R, electrical, industrial maintenance, quality control, automotive and fire prevention applications.
IR-700 Series Infrared Thermometers
Model
IR-710
IR-712
IR-720
IR-730
IR-750
Distance to Spot (D:S)
10:1
12:1
20:1
30:1
50:1
Temperature Range
0 °F to 716 °F
-18 °C to 380 °C
0 °F to 1022 °F
-18 °C to 550 °C
-26 °F to 1922 °F
-32 °C to 1050 °C
-26 °F to 2282 °F
-32 °C to1250 °C
-58 °F to 2822 °F
-50 °C to1550 °C
Please refer to
Data Sheet
for complete specifications.