Anritsu MS2711E Spectrum Master Handheld Spectrum Analyzer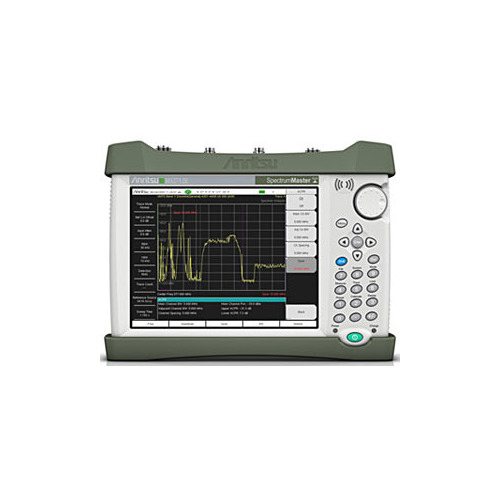 Brand:

Anritsu

Condition:

New
9 kHz to 3 GHz
DANL: > -142 dBm in 100 Hz RBW
Dynamic range: > 85 dB in 100 Hz RBW
+25 dBm TOI typical @ 2 GHz
Phase Noise: -90 dBc/Hz @ 10 kHz at 1 GHz
Frequency accuracy: < ± 50 ppb with GPS on
Detection methods: Peak, RMS, Negative, Sample, Quasi-peak
Save-on-event: Automatically saves a sweep when crossing a limit line or at the end of the sweep
One-button measurements: ACPR, Channel Power, Field Strength, Occupied BW, AM/FM/SSB Demod
Interference Analyzer: Spectrogram, Signal Strength, RSSI, Signal ID, Interference Mapping
Three hours of battery life
USB for data transfer and instrument control
8.4-inch daylight viewable color touchscreen display
Lightweight: < 3.45 kg
Designed for Field Use
The MS2711E was designed specifically for field environments. Weighing less than 3.45 kg, it is small compact and easy to carry. Its field replaceable Li-Ion battery typically lasts for more than 3 hours, and a new bright 8.4-inch color display provides visibility even in broad daylight. With an operating temperature range from –10°C to 55°C, a rugged case and splash proof design, the MS2711E works in the most extreme weather conditions with guaranteed performance anywhere and anytime.
Integrated Solution
The MS2711E is a multifunctional instrument that eliminates the need for you to carry and learn multiple instruments. It can be configured to include a broad range of parameters, including an interference analyzer with signal mapping, 2-port transmission measurement with channel scanner, power meter, high accuracy power meter, AM/FM/PM Analyzer, and GPS receiver for time/location stamping and accuracy enhancements.
Includes: Handheld Instruments Documentation Disc, Spectrum Master User Guide, Soft Carrying Case, Master Software Tools (MST) CD Disc, Rechargeable Li-Ion Battery, AC-DC Adapter, Automotive Cigarette Lighter Adapter, USB A/5-pin mini-B Cable (10 ft), One Year Warranty (Including battery, firmware, and software), Certificate of Calibration and Conformance.