Anritsu S412E LMR Master Land Mobile Radio Modulation Analyzer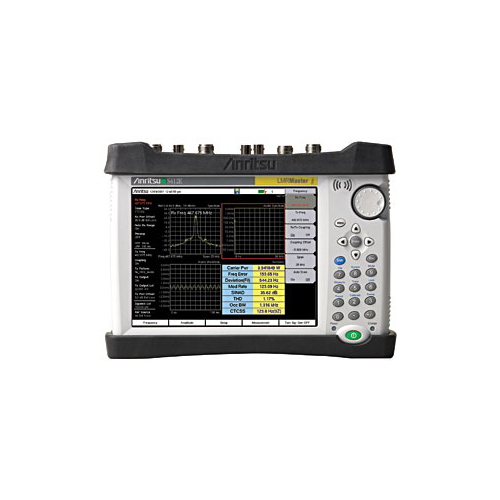 Brand:

Anritsu

Condition:

New

Meta Keywords:

S412E,Ergonomic Handles,SWA-S412E
500 kHz to 1.6 GHz (optional to 6 GHz) Handheld, battery-operated design Weighs less than 7.6 lbs. (including battery) Built-in worldwide signal standards and frequency channels TFT color daylight viewable color display Superior Immunity to RF interference Excellent Noise floor of -152 dBM
The LMR Master S412E is a compact handheld multi-function analyzer that has been specifically developed for technicians and engineers who install and maintain public safety, utility and private mobile communications systems. The S412E combines our industry-standard cable & antenna analysis with the unmatched performance of our spectrum analyzers, then adds in powerful signal analysis and generation capabilities - including coverage mapping tools for both outdoor and indoor performance analysis - to create the ultimate battery powered LMR field service instrument for system commissioning, preventative maintenance, troubleshooting and compliance testing of mission critical systems.
Land Mobile Radio Analyzer Highlights
NBFM Mode analyzes Carrier Frequency, Carrier Power, Deviation, CTCSS/DCS/DTMF, Occupied Bandwith
NBFM Auto Scan locates and locks on to transmitter carriers
SINAD and 20 dB Quieting analysis modes
Optional Digital LMR analysis modes for P25, NXDN, DMR2, PTC
Coverage Mapping (Outdoor and Indoor) for NBFM and Digital LMR
Analysis of data and BER on P25, NXDN, and DMR2 control channels
Signal Generator: 500 kHz to 1.6 GHz, 0 dBm to –120 dBm
P25, NXDN, and DMR2 modes offer standard BER test patterns including 1011 Hz, 1031 Hz, and O.153/V.52
Vector Network Analyzer Highlights
1-path, 2-port VNA w/ quad trace display
Distance Domain option for Distance-to-Fault analysis
Adjustable data points up to 4001
IF Bandwidth selections of 10 Hz to 100 kHz
Optional 6 GHz Frequency Coverage
100 dB transmission dynamic range to 4 GHz
850 μs/data point sweep speed
Vector Voltmeter option for matching section and phasing harness construction
Spectrum Analyzer Highlights
Dynamic Range: > 95 dB in 10 Hz RBW
DANL: –152 dBm in 10 Hz RBW
Phase Noise: -100 dBc/Hz max @ 10 kHz offset at 1 GHz
Frequency Accuracy: < ± 50 ppb with GPS On
Optional 6 GHz Frequency Coverage
Options: Interference Analyzer, Spectrogram, Channel Scanner
The S412E LMR Master includes data analysis software, soft carrying case, rechargeable/field-replaceable battery, AC/DC power supply, 12V automobile cigarette lighter adapter and a comprehensive user's guide.