B&K Precision 2160C Analog Oscilloscope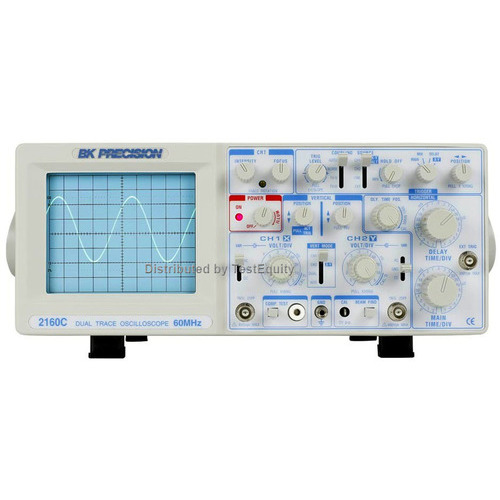 Brand:

B&K Precision

Condition:

New
60 MHz
5mV/div sensitivity
Sweep time: 20 ns/div to 5 s/div
23 calibrated ranges (main time base)
23 calibrated ranges (delayed time base)
Signal delay time
Component tester
Z axis input
Single sweep
cUL certified
1-Year Warranty
B&K Precision 2160C is a high performance analog oscilloscope with many features at a low cost. It includes a built-in component tester, which is an excellent tool for in-circuit troubleshooting. This oscilloscope is built by and backed by B&K Precision, a company that has been selling reliable, durable, value priced test instruments for over 60 years.
Includes: Instruction manual, two PR-33A x1/x10 probes or equivalent, AC power cord and spare Fuse.
Replaces the discontinued BK Precision 2160 Analog Oscilloscope.