B&K Precision 2540B-GEN Digital Storage Oscilloscope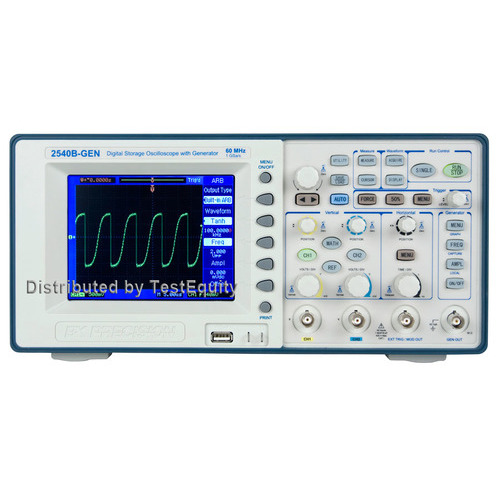 Brand:

B&K Precision

Condition:

New

Discontinued:

Yes
60 MHz bandwidth, 1GSa/s sample rate
Built-in AWG: 1 μHz to 20 MHz
Deep waveform memory up to 2.4 Mpts
28 automatic measurements
FFT plus three additional math functions
Built-in context sensitive help system
For educators - ability to disable the Auto set button
PC software that lets you remotely control the oscilloscope and capture, save, and analyze waveform data
Front panel USB port for convenient storing and recalling of waveform data, setups, and screenshots on a USB flash drive
LAN interface enables users to capture screenshots from any standard Web browser
Seamlessly load waveforms from the oscilloscope to WaveXpress waveform editing software and send them to arbitrary waveform generators
Ideal For Applications In Design And Debugging, Service And Repair, And Education
The 2540B-GEN dual-channel 60 MHz digital storage oscilloscope delivers performance and value, all in one portable solution. Maximize productivity using extensive features such as digital filtering, waveform recorder, pass/fail limit testing, and automatic measurements. This oscilloscope offers powerful tools in a small affordable package with deep waveform memory up to 2.4 Mpts plus LAN and USB PC interface. And it has a built-in arbitrary waveform generator (AWG). The 2540B-GEN is ideal for applications in design and debugging, service and repair, and education.
Easily capture, save, and analyze measurement results with Comsoft PC software. All scope parameters can be controlled via a PC without the need for programming or communicate with the DSO via the built-in LAN interface using a web browser.
Arbitrary Waveform Generator Features
1 uHz to 20 MHz sine output
1 uHz to 20 MHz square output,1 mHz to 10 MHz pulse output
30 built-in arbitrary waveforms
Save up to 10 user-defined arbitrary waveforms to internal storage
AM, FM, FSK, PSK, and PWM modulation
Frequency sweep and burst mode