B&K Precision 2569 Digital Storage Oscilloscope
B&K Precision 2569 Digital Storage Oscilloscope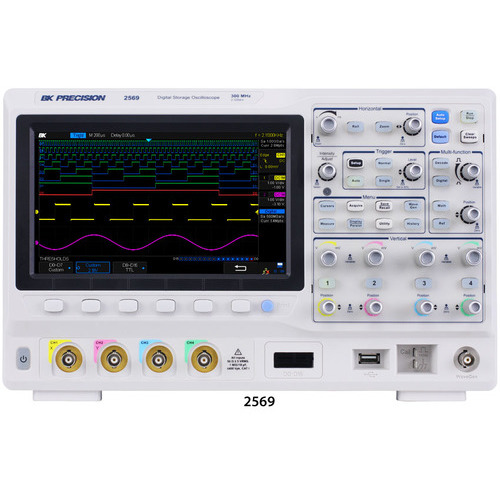 Manufacturer:

B&K Precision

Condition:

New
300 MHz, 4-channels
2 GSa/s maximum sample rate
140 Mpts maximum record length
16 digital channels with logic analyzer (included with 2567-MSO or with MSO upgrade)
Serial bus decoding for I2C, SPI, UART/RS232, CAN, and LIN protocols (Decode upgrade)
25 MHz Function and Arbitrary Waveform Generator (AWG upgrade)
Large 8" widescreen display with 256-level color gradient
140,000 wfms/s maximum waveform capture rate
Compact footprint and lightweight
Segmented acquisition history waveform record function (record length up to 80,000 frames)
Serial triggering comes standard on all models
Standard LAN and USBTMC-compliant USB device port
Selectable 50 Ω and 1 MΩ input coupling
Three-year warranty
Extensive features and upgradeability
The 2569 Digital Storage and 2569-MSO Mixed Signal Oscilloscopes deliver advanced features and debug capabilities for a wide range of applications. These oscilloscopes offer a maximum sample rate of 2 GSa/s, and a maximum memory depth of 140 Mpts. In addition, they provide an 8" color display with 256 levels of color grading combined with a high waveform update rate up to 140,000 wfms/ sec, which allows the instruments to capture infrequent glitches with excellent signal fidelity. The optional logic analyzer and decode software provides 16 additional digital channels and serial bus decoding for I2C, SPI, UART/RS232, CAN, and LIN protocols.
Maximize productivity using extensive features such as digital filtering, waveform recording, pass/fail limit testing, and automatic measurements. The optional 25 MHz function/ arbitrary waveform generator (AWG) provides stimulus output of 4 arbitrary waveforms, sine, square, ramp, pulse, DC, noise, cardiac, Gaussian pulse, and exponential rise/fall waveforms to the device under test.
The 2569 and 2569-MSO oscilloscopes are ideal for applications in design, education, service, and repair. These oscilloscopes offer a comprehensive set of tools to capture signal anomalies, decode serial bus protocols, and help speed up debug and analysis. The MSO, AWG, and decoding functionalities are available for upgrade in the field with the purchase of a license key.
B&K Precision 2560 Series Digital Storage Oscilloscopes

Additional features

Trigger types: incl. Edge, Slope, Pulse, Video, Window, Runt, Interval, Dropout, Pattern, Serial
FFT including seven other math functions
36 automatic measurements supporting statistics
Multi-language user interface and built-in context sensitive help
Software provided for remote PC control
Front panel USB port for saving waveforms, setups, and screenshots
Included with 2569 and 2569-MSO: two (2) PR500B 500 MHz Passive Probes, Power Cord, Certificate of Calibration and USB (Type A to B) Communication Cable. Also included with 2569-MSO: LP2560 Logic Probe, LA2560 Logic analyzer license, DC2560 Bus decode and analysis license and FG2560 25 MHz waveform generator license.
Upgrade licenses LA2560, DC2560 and FG2560 are only available directly from B&K Precision. End users can purchase licenses directly from B&K Precision through their website.