B&K Precision 4064 Dual Channel Function/Arbitrary Waveform Generator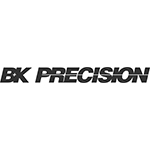 B&K Precision 4064 Dual Channel Function/Arbitrary Waveform Generator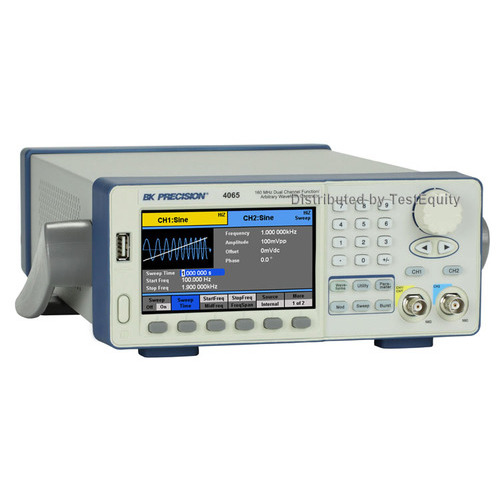 Brand:

B&K Precision

Condition:

New
80 MHz, 120 MHz, and 160 MHz models with two independent channels
14-bit, 500 MSa/s, 512k point arbitrary waveform generator
Large 4.3-inch LCD color display
Linear and logarithmic sweep
AM/DSB-AM/ASK/FM/FSK/PM/PWM modulation functions
Variable DC offset
Highly adjustable pulse duty cycle from 0.0001% to 99.9999%
Internal/external triggering
Gate and burst mode
36 built-in predefined arbitrary waveforms
Store/recall up to 10 inst. settings and 32 user-defined arb. waveforms
Built-in counter
USB device port (USBTMC-compliant) with front panel USB host port
GPIB connectivity with optional USB-to-GPIB adapter (model AK40G)
Short circuit output protection
Three-year warranty
80 / 120 / 160 MHz Dual Channel Function/Arbitrary Waveform Generators
B&K 4060 Series dual-channel function/arbitrary waveform generators include three models that can generate sine waves up to 80 MHz (4063), 120 MHz (4064), and 160 MHz (4065). These waveform generators feature two independent output channels and a large 4.3-inch color display that shows the currently selected channel along with relevant waveform parameters. The intuitive user interface features a numeric keypad, rotary control knob, and dedicated channel selection keys.
Extensive modulation capabilities include amplitude and frequency modulation (AM/FM), double sideband amplitude modulation (DSB-AM), amplitude and frequency shift keying (ASK/FSK), phase modulation (PM), and pulse width modulation (PWM). Standard USB device and host ports are available, as well as optional GPIB connectivity (with USB-to-GPIB adapter AK40G) for arbitrary waveform editing and remote programming.
Easily create custom arbitrary waveforms using the included waveform editing software or use any of the 36 built-in predefined arbitrary waveforms. Up to 8 user-defined 512-kpt arbitrary waveforms and 24 user-defined 16-kpt arbitrary waveforms can be saved to the instrument.
The standard external 10 MHz reference clock input and output allows you to synchronize your instrument with another generator. Additionally, the phase of both output channels can be synchronized conveniently with the push of a button.
These versatile function/arbitrary waveform generators are suitable for education and other applications that require high signal fidelity, a variety of modulation schemes, or arbitrary waveform generation capabilities.
4060 Series
4063
4064
4065
Sine frequency range
1 μHz - 80 MHz
1 μHz - 120 MHz
1 μHz - 160 MHz
Square frequency range
1 μHz – 40 MHz
1 μHz – 50 MHz
Channels
2
2
2
Please refer to Data Sheet for complete specifications.
Included: Getting Started Manual, User Manual on CD, AC Power Cord, USB Interface Cable (type A to type B), and Certificate of Calibration.