B&K Precision 9104 Multi-Range DC Power Supply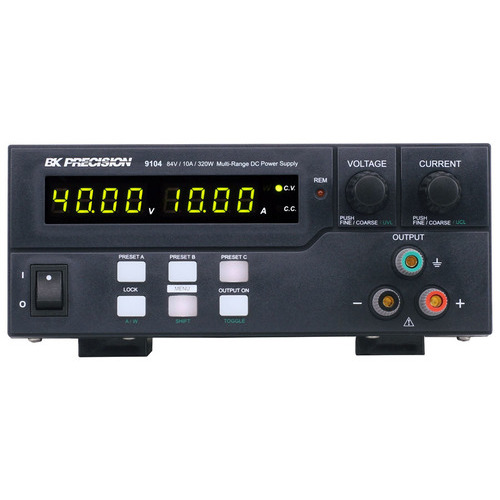 Brand:

B&K Precision

Condition:

New

Meta Keywords:

09104,Premium,DES-09104
0 to 84 V, 0 to 10 A, Maximum Power: 320 W*
Automatic CV/CC crossover operation
Remote Sense
Save up to 3 user-defined voltage and current presets for quick recall
Transient mode for generating square, triangular or trapezium waveforms
PC software for remote control and external timed programming
Analog remote control function n USB interface
Output on-off switch and control panel lock button for safer operation
Overvoltage and overcurrent protection
Lightweight and compact
USB interface
Two-year warranty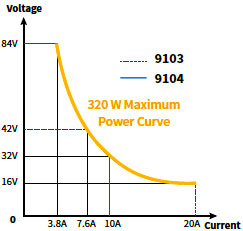 Output Characteristics
The 9103 and 9104 provide great flexibility over traditional power supplies by extending the operating areas. For example, the 9104 can operate at 84 V / 3.8 A, 32 V / 10 A, or any other point on the maximum power curve.
Designed to Make Your Work Easier
B&K model 9104 multi-range power supply can replace several power supplies on your bench by offering extended operating areas. Unlike conventional supplies with fixed output ratings, this power supply automatically recalculates voltage and current limits for each setting, providing 320 W output power in any voltage/ current setting within its rated voltage and current limits.
Full-Featured DC Power Supply That Meets Your High Power Needs
The 9104 switching mode power supplly features a small form factor, auto cross-over for constant voltage (CV) and constant current (CC) operation, 3 voltage/current presets for frequently-used settings and transient operation, and versatile remote control modes. The dual action push button allows you to precisely set both coarse and fine voltage and current levels quickly. A remote sensing terminal compensates for voltage drop across load leads.
Fully Protected
Have peace of mind knowing that these power supplies come with built-in OVP (overvoltage protection), OTP (overtemperature protection), and OLP (overload protection) circuitry. These protections help prevent serious damage to equipment in case of power supply failure.
Analog Remote Control Capability
Use the included 8-pin connector to wire up to an external variable DC voltage source or variable resistor to remotely control the power supply's output voltage and current or to turn the output on/off.
B&K Multi-Range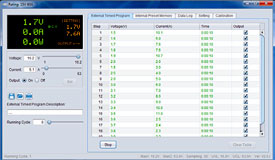 Communicate with the 9104 with programming commands, or through remote control PC software.
Power Supplies
9111
9103
9104
9202
Output Voltage
0 – 60 V
0 – 42 V
0 – 84 V
0 – 60 V
Output Current
0 – 8 A
0 – 20 A
0 – 10 A
0 – 15 A
Output Power
180 W
320 W
320 W
360 W
Front Panel Interface
Simple Keypad and Encoder
Full keypad and Encoder
Remote Sense
–
Yes
Yes
Yes
Remote Interface
–
USB
USB
USBTMC, RS-232, GPIB
Warranty
1–Year
2–Years
2–Years
3–Years
Please refer to Data Sheet for complete specifications.
The 9104 is especially suitable for a wide range of applications requiring high current including production testing, telecommunications, R&D, service, and university labs.
Included with 9104: power cord, USB cable and remote control connector.