B&K Precision 9117 Multi-Range Programmable DC Power Supply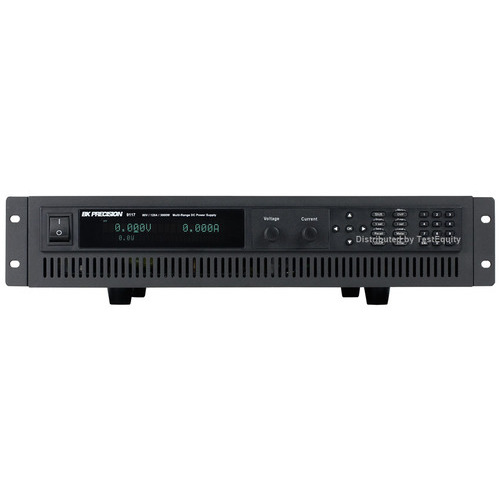 Brand:

B&K Precision

Condition:

New
Output up to 3000 W within 80 V/120 A range (Output V x A cannot exceed 3000 W)
Multi-ranging operation
Compact, high density, 2U rackmount form factor
High programming and readback resolution
Adjustable voltage rise and fall times
Store and recall up to 100 instrument settings
Standard USB (USBTMC-compliant), RS-232, GPIB, RS-485, and LAN interfaces supporting SCPI commands for remote control
Analog interface with control and monitoring functions
Remote sense
Overvoltage protection (OVP), overpower protection (OPP), overtemperature protection (OTP), and key-lock function
Softpanel for remote control, test sequence generation, and data logging. This software also integrates with Data Dashboard for LabVIEW apps enabling iOS, Android or Windows 8 compatible tablets or smartphones to remotely monitor select measurement indicators.
One-year warranty
NOTE: Output V x A cannot exceed 3000 W. Please read the Data Sheet before ordering!
The model 9117 is capable of generating up to 3000 W within its maximum voltage and current rating of 80 V, 120 A. Its high density, 2U, 19-inch rack-mountable package makes the power supply ideal for systems integrators as well as a wide variety of general-purpose applications in R&D and manufacturing. Notable benefits include high programming and readback resolution with programmable voltage rise/fall times.
As with other 9115 Series models, the 9117 features an intuitive user interface complete with numeric keypad, rotary knobs, and cursor keys for direct data entry along with convenient cursors and analog style knobs to quickly make incremental voltage or current changes. Systems integrators benefit from the standard USB (USBTMC-compliant), RS-232, GPIB, RS-485, and LAN interfaces supporting SCPI commands.
Unlike conventional power supplies with fixed output ratings, multi-range power supplies like B&K 9115, 9116 and the 3,000 Watt 9117 can automatically recalculate voltage and current limits for each setting, providing full output power in any Volt/Amp combination within the rated voltage and current limits.
Included Accessories: User Manual, Unterminated AC Power Cord, AC Input Connector, Certificate of Calibration and Test Report.