B&K Precision 9183B Dual-Range DC Power Supply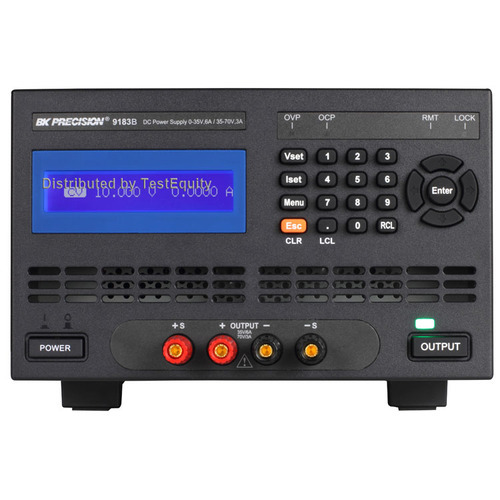 Brand:

B&K Precision

Condition:

New
Low range: 0 to 35 V, 0 to 6 A High range: 0 to 70 V, 0 to 3 A
210 W max., Single output
Exceptionally low ripple and noise
Front and rear panel output
List mode for executing up to 10 stored test sequences with a maximum of 150 steps in total
Overvoltage/overcurrent/overtemperature protection (OVP/OCP/OTP) and key-lock function
Fast transient response time of < 50 us for most models
Fast command processing time < 10 ms
Programmable voltage and current slew rates
Standard USB interface
4 optional types of modular interface cards add LAN and GPIB, Digital I/O and Analog Control, RS485, or RS232 functionality
LabVIEW (TM) drivers available
Three-year warranty
Designed to Meet Demanding Applications in R&D, Design Verification, and Production Testing
The 9183B programmable DC power supply delivers clean, stable and precise output power due to its exceptionally low ripple and noise, low temperature coefficient, excellent regulation and fast transient response time characteristics.
The 210 Watt 9183B offers standard SCPI IEEE488.2 compliant USB, and optional RS232, RS485, GPIB and LAN interfaces, combined with front and rear panel output and remote sense terminals to facilitate test system development and integration. The LAN interface includes a built-in web server that allows users to configure, control, or monitor basic power supply settings. These features, along with fast command processing time, make the 9183B ideal for ATE applications.
In addition to a full numerical keypad for convenient data entry, the 9183B also provides unique features such as LED test modes, modular interface card slots, automatic range selection, and an optional 8-bit bidirectional digital I/O interface. And, the 9183B's dual ranges allow you to select between high- and low-range operation for either more voltage or more current.
Test modes for LED and other special applications
The 9183B incorporates special LED test modes for efficient and safe electrical tests of LED panels. Powering LEDs with conventional power supplies will potentially cause permanent damage to the UUT or limit its lifespan due to excessive inrush current at power up and the non-linear characteristics of the LED's I-V curve. The 9170B/9180B Series supplies feature two distinct operating modes suitable for LED testing in a manufacturing or R&D environment and other special applications requiring a controlled rise time at power up without generating any inrush current.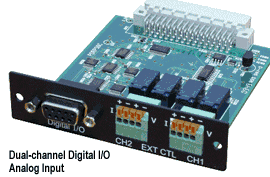 Modular Interface Card Slots
Only buy what you need, when you need it. Pick and choose from up to 4 different types of interface cards to install at time of purchase or upgrade later. Interface card options include: LAN and GPIB, Digital I/O and Analog Control, RS485, or RS232. Installation is quick and easy and does not require opening the instrument case (does not void warranty). B&K Precision's free pwrApp remote control application for the iPhone, iPad, and iPod touch is available to use with all 9170B/9180B Series models that have a LAN interface card installed.
9180B Series Programmable Dual-Range DC Power Supplies
Specifications
9181B
9182B
9183B
9184B
9185B
Output Rating
Low Range
0 to 18 V, 0 to 8 A
0 to 10 V, 0 to 20 A
0 to 35 V, 0 to 6 A
0 to 100 V, 0 to 2 A
0 to 400 V, 0 to 0.5 A
High Range
0 to 36 V, 0 to 4 A
0 to 20 V, 0 to 10 A
0 to 70 V, 0 to 3 A
0 to 200 V, 0 to 1 A
0 to 600 V, 0 to 0.35 A
Number of Channels
1
1
1
1
1
Max Output Power
144 W
200 W
210 W
200
210 W
Please refer to Data Sheet for complete specifications.
Included with 9183B: user's manual, AC power cord, USB interface cable (type A to type B), line fuse, certificate of calibration and test report. Also included: free application software for remote control without the need for computer programming.