Chroma 19035 Wound Component Scanner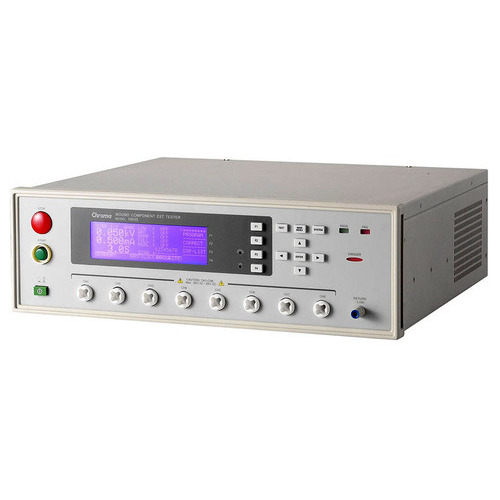 Brand:

Chroma

Condition:

New
Wound Component EST Scanner
Replacement for QuadTech Hybrid 2000
AC: 0.05 - 5KV, DC: 0.05 - 6kV
SUB-STEP Function
Open / Short Check (OSC)
GFI Human Protection
Flashover Detection
Key Lock Function
RS-232 Interface (standard)
Optional GPIB and Handler Interface (instead of RS-232)
CE Mark
Wound Component Testing Solution
The Chroma 19035 Wound Component EST Scanner is a production safety tester designed for test requirements of three-phase motors, double-wound transformers and heater related wound components. Quality verification test items for wound components consist of AC/DC Hipot (dielectric withstanding), Insulation Resistance (IR), and Impulse Winding tests. Chroma has integrated these tests into one unit.
The 19035 Series supports 5 kVac and 6 kVdc high voltage output to conform with withstand test requirement for wound components, its maximum output current can up to 30 mA. Insulation Resistance (IR) test measurement range is 1MΩ to 50GΩ with up to 5 kV test voltage. DCR can measure basic specification for wound components and also check the connection before safety withstand testing.
The 19035 Series also includes powerful functions such as Flashover detection and Open/Short Check (OSC) as well as programmable voltage, time parameters, etc. for various DUTs features to promote testing reliability and product quality.
Applications
The 19035 is a comprehensive safety tester designed for motor, transformer, heater related wound component requirements. Most of wound components are equipped with multiple winding such as 3-phase motor, dual winding transformer, etc. Moreover, the wound component needs to use Impulse Winding Tester for high voltage winding to check insulation no good of winding device.
The 19035 design is for connecting a DWX Series — Impulse Winding Tester directly and using the 19035 8-Channel scanning to reach multiple points completion in one test, instead of switching test points manually — saving test time and human cost.
The 19035 provides OSC and DCR functions to verify if a bad contact or a short circuit has happened during the testing procedure. It solves the Wound Components of motor, transformer, etc. contact problems, so that test quality is greatly enhanced; and the life of test device prolonged.
Motor, Fan: 19035-M / 19035-ML
Electric Heater Tube : 19035-M / 19035-ML
Transformer: 19035 / 19035-L
Switch, Wire: 19035 / 19035L
Camera Micro Motor, Coil: 19035-S