Chroma 19071 Sentry Hipot Tester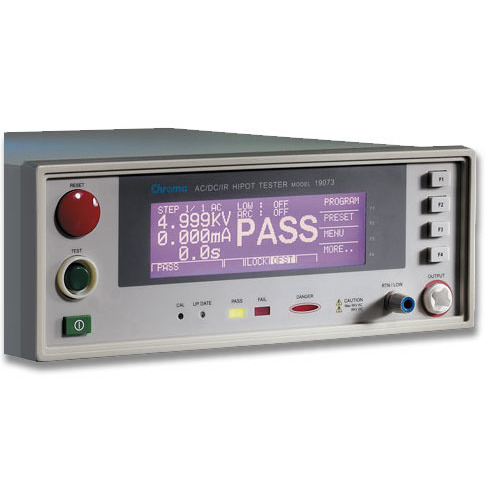 Condition:

New

Drill Down Description:

Sentry Hipot Tester

Model:

19071

Quote Required:

Yes

Web Meta Description:

Find the product you need with our Chroma 19071 Sentry Hipot Tester. We proudly offer best-in-class customer service and will help you find the solutions you need for your business.

S3 Part Number:

23666.1
5 kVAC and 6 kVDC Hipot (Model 19071 AC only)
Insulation resistance 1 Megohm to 50 Gigohms, up to 1 kV test voltage (Model 19073)
Model 19071 is a direct replacement for QuadTech Sentry 10 Plus. Model 19073 is a direct replacement for Quadtech Sentry 30 Plus.
Ground continuity check
Open Short Check (OSC) function
GFI shutdown the instrument when imbalance current >0.5 mA
Flashover (ARC) detection
Quick discharge of DUT in IR and DC test modes
Pause mode
Large LCD display (240 x 64 dots matrix)
Programmable ramp/fall and test time
Programmable high/low limit
Save/Recall program test function
Available with remote control and serial interface
The Chroma 19071 and 19073 are the smallest Hipot Testers currently available in the world. Their super-mini size makes them easy to carry, and the large LCD display is helpful for viewing measurement results. The 19071 is designed for AC Hipot testing only. The 19073 combines both AC and DC Hipot with insulation resistance (IR) measurements into a single compact unit.
Model 19071 is a direct replacement for QuadTech Sentry 10 Plus. Model 19073 is a direct replacement for Quadtech Sentry 30 Plus
Open Short Check (OSC)
OSC function is used to check if the connection is open, or if there's a short circuit between instrument and equipment under test.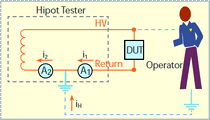 Ground Fault Interrupt (GFI)
Test environment requirements mandate that test equipment has an auto-interrupt device. This requirement is met with the 19070 Series' Ground Fault Interrupt (GFI) function. When a current measurement of A1 and A2 shows a difference (i2-i1=iH) between the value i1 and actual i2, the GFI will cut the power — protecting the operator.
Applications:
Transformer and other electronic components safety tests
Production test of appliances, instruments and information technology equipment in accordance with UL, IEC, TUV and other standards
Electric motor safety tests