Chroma 63207 DC Electronic Load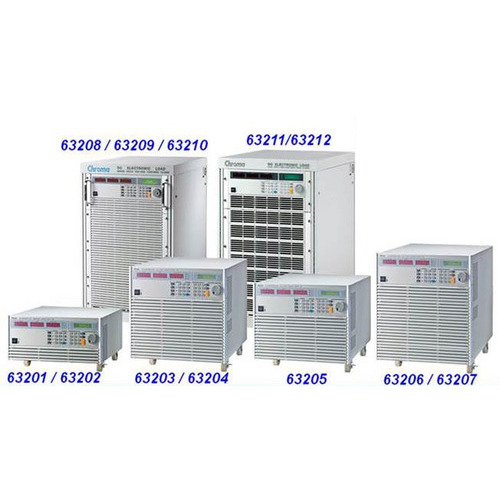 Brand:

Chroma

Condition:

New
300A, 80V, or 10.4kW max. CC, CR, CV, CP load modes Master/Slave paralleling control mode, allow synchronous load control under static and dynamic loading mode (Up to 93.6kW) Dynamic loading: Up to 20kHz Only need 1V to draw rated current Programmable slew rate, up to 41A/µS Measurement: Voltage / Current / Power / Resistance Large LED / LCD display External loading waveform simulation Short circuit simulation and short circuit current measurement Full protection: OP, OC, OV, OT and reverse protection Versatile remote controller GPIB & RS-232 interface Surge load capability Battery discharge timer
Programmable High Power DC Electronic Load
The Chroma 63207 Electronic Load is designed to test DC power sources, power electronic devices, automotive battery and components testing. The high power ratings, parallel and synchronization capabilities make it the ideal tool for testing high power UUTs such as SMRs, UPSs, batteries, and fuel cells.
Power Electronic Devices Testing
The 4 load modes setup provide different load simulations for various application occasions. The CC/CR modes are designed to test constant voltage type of power supply. CV mode is used to test battery charger and current source, while CP mode is ideal for battery testing by simulating the real discharge curve.
Battery testing
The 63207 can draw its rated current under very low voltage (1V typical) even under the highest specified slew rate. This unique feature guarantees the best loading performance to a low voltage power supply. With the unique external waveform simulation and Master / Slave control capability, the 63207 electronic load allows users to parallel and synchronize more than one load together using an internal or external loading control signal. This feature provides unlimited load simulation and the possibility of power expansion.
| | |
| --- | --- |
| Master / Slave Parallel Control | The 63207 high power load has a smart Master / Slave control mode. When the load is set to Master / Slave mode, users can program the loading (CC mode only) on master unit. The loading current values of the slave units will be calculated and downloaded by master unit automatically. In short, unlike traditional designs, users may consider several load units that work under Master / Slave mode as a single load unit. |
External Loading Waveform Simulation


The 63207 electronic load can be controlled by an external analog control signal, which is generated by any kind of signals or an arbitrary waveform generator. Thus, it is capable of simulating any loading waveform observed in the field within the load specifications.
Short Circuit Simulation
Chroma's 63207 electronic load can also simulate a short circuit condition. The load can short a DC power source or any power supplies that have a built in current limit function, and measure their short circuit currents so that users can verify if the UUT current limit is functional.
Surge Load Capability
Chroma's 63207 DC Load provides a unique surge load simulation capability which allows users to overdrive the loads up to 2.7 times their rated power for short periods. This feature is ideal when the average power required by the UUT is low compared to short-term peak power demands. Plasma Display Panel (PDPs) testing is one of the typical applications, others include battery 3C discharge, breaker & fuse over rating (300% to 1000%) tests, car engine start-up simulation and DC motor start-up simulation.
Timer Function for Battery Discharge Testing
The 63207 includes a unique timing & measurement function allowing for precision time settings and measurements in the range of 1s to 99999s. This feature allows users to set a final voltage & timeout value for battery discharge testing and similar applications.
Power Supply Testing
Power supplies play a critical role in electrical and electronic devices, and have diversified into several different configurations for different applications. For example, AC/AC power supplies are used for UPS and AVR, AC/DC power supplies are used for PC power supplies, and DC/AC power supplies are used for inverters that transfer battery power to AC for home appliances. Lastly, DC/DC converters are widely used in battery powered devices such as cellular phones and laptop computers. With four different load modes, Chroma 63207 electronic load is capable of testing many different DC output power supplies directly or via a rectifier. It can also be used to test the AC output power supplies.
Electronic & Electrical Devices Testing
Today's electronic equipment has a built-in power supply. Therefore, a DC electronic load is an important instrument for these devices during the R/D and Q/A phases. For example, A/D, D/D and D/A stages are normally integrated in a UPS. The Chroma 63207 electronic load is helpful in testing the internal A/D and D/D boards of UPSs
System Integration
Chroma's 63207 electronic load provides GPIB, RS-232C and RS-485 PC controllable interfaces. The external waveform simulation and voltage / current monitoring capability make Chroma 63200 family ideal for automatic system integration.
Please visit the 63200 Series product page for information on all High Power DC Electronic Loads in this series. >>