Chroma 63303A Load Module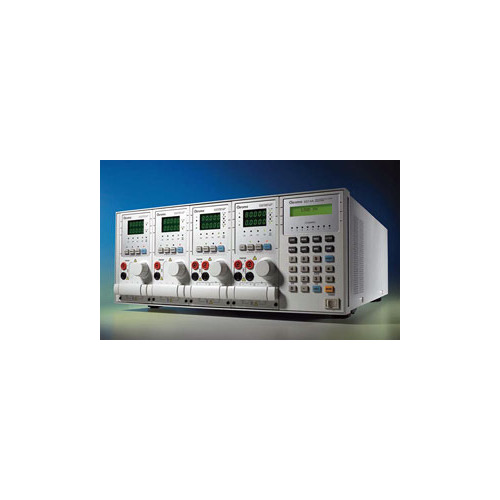 Brand:

Chroma

Condition:

Used
60 A, 300 W Voltage Range: 0 to 80V CC, CR, CV, CP operating modes Dynamic loading with speed up to 20kHz Programmable slew rate, up to 10A/μs Only needs 1V to draw rated current Real time load transient response simulation and output measurement 16-bit precision voltage and measurement with dual-range selection Remote sensing capability Short circuit test Synchronous paralleling control mode, allow Synchronous load control under static and dynamic Loading mode up to 6000W GPIB/RS-232/USB Interface
Chroma's 63303A DC electronic load is an enhanced version of its 6310 series counterpart. These loads are packaged and rated identically to the 6310 series except they have been enhanced for automated testing. Enhancements include synchronized paralleling allowing from transient response testing using parallel load groups and high speed data transfer circuits allowing for global queries of voltage and current. Instruments come standard with front panel controls & RS232 or optional GPIB.
The 63303A is isolated and floating, programmable in dual current range and measuring voltage range, and capable of synchronizing with other modules for control operating. The load can be operated in constant current, constant voltage, and constant resistance.
Chroma's Model 63303A high speed DC electronic load has improved CPU clock, baud rate, parser and synchronous parallel function for fast operation, making them ideal for auto test system integration to increase your manufacturing test throughput. Plugging the user selectable load modules into the system mainframe can also provide easy system configuration and future reconfiguration configure the system.
Real-time measurement of voltage, current, is integrated into each 63303A load module using a 16-bit precision measurement circuit. The user can perform on line voltage measurement and adjustment, or simulate short circuit test using the simple keypad on the front panel.
The 63303A has a self-diagnosis routine to maintain continuous performance. It is also protected against OP, OC, OT, OV, and reverse polarity to guarantee quality and reliability for even the most demanding engineering testing and ATE application.
The FET technology accomplishes minimum input resistance and enables the load to sink high current even at very low voltage. The 63303A is capable of sinking 60A at 1V output, and well-suited for testing the new 3V low voltage power supplies. Low voltage operation, down to zero volts, is possible at correspondingly reduced current level.
Chroma has created the industry's first LED Load Simulator for simulating LED loading. By setting the LED power driver's output voltage, and current, the Electronic Load can simulate the LED's loading characteristics. The LED's forward voltage and operating resistance can also be set to further adjust the loading current and ripple current to better simulate LED characteristics. The 63303A's design also has increased bandwidth to allow for PWM dimming testing.

Chroma's 6330A Soft Panels are the perfect compliment to your 63303A DC Electronic Load.
Developed specifically to function with this DC electronic load, the Soft Panel will provide you access to functions such as DC Load Communication Test, OCP Test, Charger Test & Battery Discharge Test, and others.
Please visit the 6330A Series product page for information on all DC Electronic Loads in this series. >>