Chroma 66204 Digital Power Meter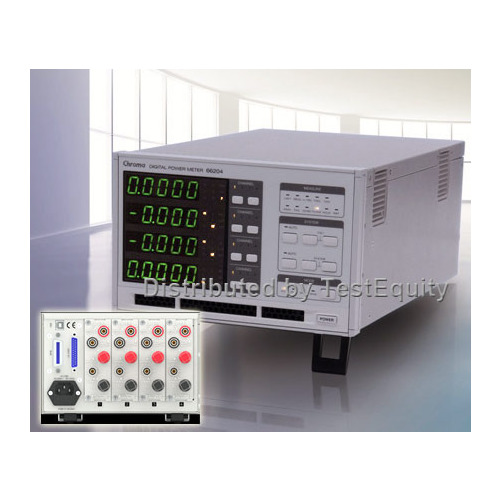 Condition:

New

Drill Down Description:

Digital Power Meter

Keywords:

66204,Conductive,DES-66204

Model:

66204

Quote Required:

Yes

Web Meta Description:

Desco Industries 66204 DESCO ROLL, RUBBER, DUAL LAYER, DARK BLUE, 0.060''x24''x50'

S3 Part Number:

22462.1
Voltage Range : 15/30/60/150/300/600 Vrms
Current Range : 0.005/0.02/0.05/0.2/0.5/2/5/20 Arms
Frequency Range : DC, 15Hz – 10kHz
Embedded high speed DSP, 16 bits Analog/Digital converters
Half rack size, 4 input modules design (66204)
Supports different wiring configuration power measurement:
(1P2W/1P3W/3P3W/3P4W)
Supports external shunt and CT for higher current measurement
5 mA minimum current range & 0.1mW power resolution
Meets ENERGY STAR / IEC 62301 /ErP measurement requirements
Accumulated energy methods for unstable power measurement
User-define criteria provides automatic PASS/FAIL indications
Dual current shunt design provides high accuracy over a wide range
THD and user-specify order distortion measurement
Inrush current and energy measurement
Voltage/ Current harmonics measurement up to 50 orders
SPECIAL ORDER ITEM - NON-CANCELLABLE, NON-RETURNABLE
Chroma's Digital Power Meters are designed for both single-phase and multiple phase measurements of AC power signals and related parameters common to most electronic products. Instead of traditional analog measurement circuits the 66200 Digital Power Meter uses state-of-the-art DSP digitizing technology. The internal 16 bits analog/digital converters with sampling rates of up to 200 KHz provide both high speed and high accuracy measurements which is unprecedented within the industry for this class of power meters current on the market.
The wiring mode function allows the user to take accurate power measurements for various wiring modes (see figure below) as well as providing accurate standard power measurements common for most electrical devices.
Wiring Modes
Channel 1
Channel 2
Channel 3
Channel 4
1P2W (Single Phase Two Wire)
1P2W
1P2W
1P2W
1P2W
1P3W (Single Phase Three Wire)
1P3W
1P2W
1P2W
3P3W (Three Phase Three Wire - Two Watt meter method)
3P3W
1P2W
1P2W
3P4W (Three Phase Four Wire)
3P4W
1P2W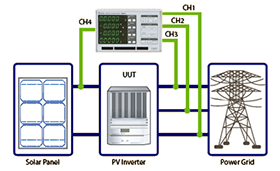 Each channel of 66203/66204 has the ability to provide independent measurements; hence the meters are suitable for multi-point measurement applications such as PV inverter testing. Instruments are designed for measuring DC input parameters as well as three phase AC readings on the output side. The overall efficiency for the PV inverter can easily be obtained by built-in functions. In order to meet high voltage applications (up to 1200Vrms) Chroma offers an HV option kit.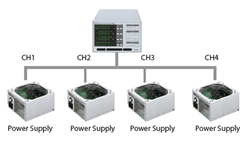 With the wiring mode set as 1P2W, the 66204 Power Meter has the capability of performing up to 4 simultaneous power measurements as shown. The meters are also designed to comply with power measurement requirements in accordance to many international standards such as Energy Star/EN 50564/IEC 62301/ ErP.
Power Efficiency Softpanels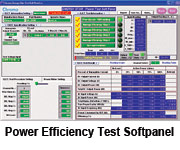 The 66200 Power Meters provide graphical user interface software (Softpanels) which allow users to control and read measured parameters from a computer via USB or GPIB interface. Users can easily observe measured voltage and current waveforms and monitor the changes in parameter readings by using the chart function. Additional features include a recording function which can record selected parameters and write data to a file for further analysis.
The 66203/66204 power meters include a 2-shunt design to provide high accurate readings for both low and high current measurements. The power meters also support features such as Inrush current, Total Harmonic Distortion of V/I, and Energy measurements. With these practical functions, the 66203/66204 power meters are suitable for meeting the demanding tasks of R&D, production and quality control departments.