Chroma 66205 Digital Power Meter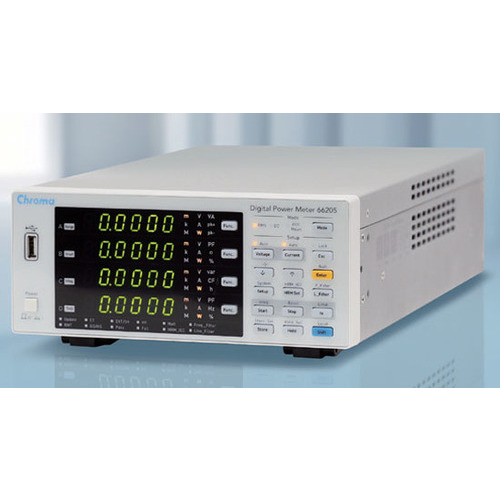 Brand:

Chroma

Condition:

New

Meta Keywords:

66205,Conductive,DES-66205
Dual Layer Rubber Matting
Dark Blue Roll, 0.060" x 30" x 50'
Dissipative Dual Layer Rubber Material
Provides reliable path to ground and eliminates static charge generation as a worksurface table mat, shelf liner, and cart liner.
Dissipative (1 x 106 to < 1 x 109 ohms Rtt) Top Layer
Meets ANSI/ESD S20.20 worksurface required limit and recommendation of ANSI/ESD S4.1 for contact with ESD susceptible items.
Conductive (< 1 x 104 ohms Rtt) Bottom Layer
The dedicated conductive layer reduces the resistance to ground (Rtg) from the top of the surface to the groundable point ground and allows the mats to be used with ESD workstation monitors.
Heat and Chemical resistant
May be used with soldering iron, flux, and other chemicals.
Lead-free RoHS compliant
Made in the United States of America
This item is made and stocked in Canton, MA

Replaces Chroma 66202
Chroma's 66205 Digital Power Meter is the second-generation of the 66200 series power meter designed specifically for single channel measurement. Its state-of-the-art design is capable of providing highly accurate power measurements to meet the requirements of IEC 62301/EN50564 standards. Functionality improvements of the 66205 increase power measurement capabilities to a wider range of applications.

Measurement parameters
The 66205 power meter is capable of providing the following reliable and accurate measurement parameters: Vrms, Vpeak+, Vpeak-, V_harmonic, V_THD, CFV (Crest Factor Voltage), Irms, Ipeak+, Ipeak-, I_harmonic, I_THD, Is (Inrush Current), CFI (Crest Factor Current), W, VA, VAR, PF, Freq_V, Freq_I, Wh, Ah, ° (phase degree).

Smart range (for Power Integration Function)
The Smart Range function is one of the most important new features added to the 66205 power meter. Smart Range allows the power integration mode to perform active power measurements with the measurement range in auto mode. Chroma's proprietary design automatically selects the appropriate range, based on changes in sensed voltage and current, ensures the best accuracy when integrating the measurements over time.

Line Limiter Function
Line filter is a digital low pass filter with a high attenuation rate of ±70dB. When line filter is enabled, the measured value will not include high frequency content, such as the high frequency noise of a switching converter. The 66205 offers three sets of line filter with cutoff frequency: OFF, 500 Hz and 5.5 kHz. The line filter with 5.5 kHz cutoff frequency is compliant to IEC 61000-3-2 international standards. It is suggested to turn this filter on when measuring harmonics.

The 66205 provides 10 selectable current measurement ranges from 5mA up to 30A. External sensor options A662017 – A662020 are available to increase the current measurement range. Six selectable voltage ranges are available up to 600V.

External sensor option A662012 can be used to increase the voltage measurement range to 1.2kV. The 66205 provides a low range error up to 0.05% and is capable of meeting the measurement uncertainty requirement of IEC 62301/EN50564.

The 66205 power meter is designed to comply with IEC 61000-4-7. Continuous high-performance harmonic measurement, with 5Hz frequency resolution and a packet harmonic function, it can accurately measure sub-harmonics, inter-harmonics and harmonics.

The 66200 Power Meter provides graphical user interface software (softpanel) which allow users to control and read measured parameters from a computer via USB, GPIB or LAN interface. Users can easily observe measured voltage and current waveforms and monitor the changes in parameter readings by using the chart function. Additional features include a recording function which can record selected parameters and write data to a file for further analysis. The 66200 Softpanel supports IEC 61000-3-2 harmonic current limit test (precompliance) allowing users to examine whether the UUT has met the harmonic current requirement. The Power Efficiency Softpanel integrates the Chroma's electronic loads and AC Sources to provide an effective method for power efficiency testing and recording of data using the test report function which automatically generates a report at the completion of testing.

6620 Power Meter's Additional features

Inrush current measurement
Harmonic measurements
High voltage function
External shunt function
CT / DCCT function

The 66205 Digital Power Meter is a great fit for meeting the demanding tasks of R&D, production and quality control.