Extech EX623 AC/DC Clamp Meter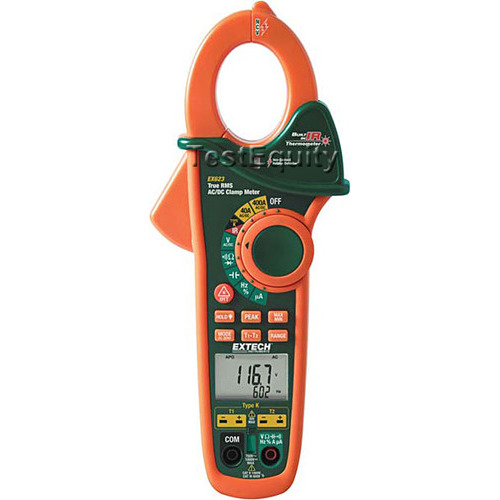 Brand:

Extech

Condition:

New
400A Dual T/C Input AC/DC Clamp Meter + Non-Contact Voltage + IR Thermometer
True RMS measurements for accurate AC Voltage and Current measurements
AC/DC Current to 400A
Dual type K thermocouple input with Differential Temperature function (T1, T2, T1-T2)
Built-in non-contact IR Thermometer with laser pointer for locating hot spots (up to 518°F/270°C)
Built-in non-contact Voltage detector with LED alert
DC µA multimeter function for HVAC flame rod Current measurements
Data Hold plus fast Peak Hold of current surges during motor startup
40,000 count multimeter functions for DC Voltage, Resistance, Capacitance, and Frequency for high resolution over wider ranges
Measures motor capacitors to 40,000µF
1.25" (32mm) jaw opening for conductors up to 500MCM
Rugged double molded housing
Auto power off with audible alert and disable function
Autoranging with manual override
1 Year Warranty
EX623 5-in-1 clamp meter was awarded the Gold Industrial Electronics Innovation and Technology Award at Asia's biggest electronics event, the 28th annual Hong Kong Electronics Fair. The HKEIA competition aims to recognize and reward makers of outstanding new products that demonstrate excellence in design, technology, and feature sets.
Extech's 5-in-1 clamp meter is specifically designed for HVAC/R and electrical professionals in residential, commercial, institutional, and industrial settings. The EX623 accurately measures AC and DC current, voltage, and temperatures for troubleshooting both new installations and preventive/ongoing maintenance and repairs. No other clamp meter offers the convenience and versatility of 5 meters in one instrument: AC/DC clamp meter; advanced, True RMS multimeter; infrared thermometer (Extech-patented); non-contact voltage detector; and dual Type-K thermometer.
The EX623's infrared thermometer and laser pointer make temperature readings simpler and safer. And, having two Type K thermocouple inputs make superheat and sub-cooling temperature measurements easier to perform. The DC microamp function is ideal for flame rod current measurements and the EX623's generous 32mm jaw opening handles conductors up to 500MCM. To make users' everyday installation, diagnostic, and maintenance tasks simpler and easier, Extech's EX623 offers users a valuable combination of 5-in1 convenience, a rugged double-molded housing, competitive pricing, top-spec capabilities, and less toolbelt/toolbox clutter that no other brand can offer. Extech's 5-in-1 redefines expectations about clamp, multimeter, voltage detector, IR thermometer and Type-K thermometer functionality and form factor. Designed by customer feedback, users increasingly demand multi-function capabilities, one device, no compromises.
Includes CAT III-600V, double molded test leads, 9V battery, two Type K bead wire probes and case.