Flir 64501-0114 E40SC Infrared Camera Bench Top Test Kit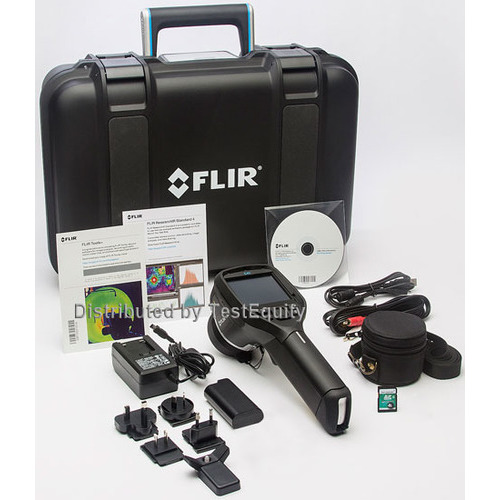 Brand:

Flir

Condition:

New

Family Models:

E40sc Kit

Discontinued:

Yes
E40 Thermal Imaging Infrared Camera included
19,200 pixels (160 x 120)
3.5" touch-screen LCD
Manual focus / 2x digital zoom
60 Hz image frequency
-20°C to 120°C, 0°C to 650°C
Thermal sensitivity <0.07°C @ +30°C
25° lens
Measurements down to 200 microns (w/ 45° lens)
FLIR ResearchIR: Real-time image/data logging and plotting software
Possible to attach to a tripod
Make measurements with confidence and trust your findings every time with the FLIR E40sc Thermal Bench Top Test Kit.
Thermocouples are limited to a best guess of where the right measurement points might be and often create undesirable heat sinks that alter a target's thermal properties. A spot pyrometer isn't very effective either. Like a thermocouple, it only measures one point at a time. Worse, it merely senses the average temperature of an area, and the farther away from the object, the greater the discrepancy.
But with the infrared camera in a FLIR Bench Top Test Kit, you can detect thousands of measurement points in each thermal image and get reliable data in seconds. Together with the kit's lens choices and time vs. temperature plotting software, FLIR now offers the most dependable infrared solution to help paint the complete picture and get it right the first time.
FLIR ResearchIR
FLIR ResearchIR is aimed at R&D-Science users of thermal imaging cameras with a cooled or un-cooled detector. FLIR ResearchIR takes the most out of your thermal imaging camera and allows high speed recording and advanced thermal pattern analysis. ResearchIR is the perfect tool for industrial R&D labs.
FLIR ResearchIR key features:
View, record and store images at high speed
Post-processing of fast thermal events
Generate time-temperature plots from live images or recorded sequences
Advanced Start/Stop recording conditions
Unlimited number of analysis functions (Spot, Line, Area)
File organizer
Zoom & Pan allows a closer look
Multiple user-configurable tabs for live images, recorded images or plot
This item is only offered for end use in the United States. Please contact us for sales to Canada.