Flir A35SC-BTTK Infrared Camera Benchtop Test Kit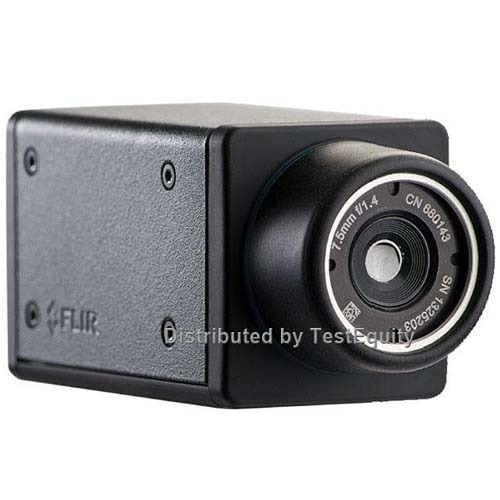 Brand:

Flir

Condition:

New
A35sc: to 320 x 256, 60 Hz frame Rate, -25°C to +135°C, -40°C to +550°C, 48° lens
Sensitivity <0.05°C @ +30°C
Ethernet interface
FLIR ResearchIR: Real-time image/data logging and plotting software
Camera tripod adapter for locked-down targeting
Real-Time Thermal Imaging and Analysis for Machine Vision and Test & Measurement
The FLIR compact A-Series thermal cameras are compact enough to fit in the tightest spaces on your production line and affordable enough to integrate and synchronize en masse for greater coverage or stereoscopic applications.
Designed specifically for machine vision, FLIR Compact A-Series provides the versatility and plug-and-play compatibility of GigE Vision and GenICam protocols.
Additional FLIR Compact A-Series Thermal Camera Features:
Extremely affordable - The FLIR compact A-Series is an extremely affordable unit. From now on price is no longer an issue for deploying thermal imaging cameras to monitor continuous processes.
GigE VisionT™ standard compatibility - GigE Vision is a new camera interface standard developed using the Gigabit Ethernet communication protocol. GigE Vision is the first standard to allow for fast image transfer using low cost standard cables even over long distances. With GigE Vision, hardware and software from different vendors can interoperate seamlessly over GigE connections.
GenICamT™ protocol support - The goal of GenICam is to provide a generic programming interface for all types of cameras. Regardless of interface technology (GigE Vision, Camera Link, 1394 DCAM, etc.) or features implemented, the Application Programming Interface (API) will always be the same. The GenICam protocol also makes it possible to use third party software with the camera. GenICam makes the FLIR compact A-Series plug-and-play when used with software packages such as IMAQ Vision and Halcon.
Power over Ethernet (PoE) - Communication and power supplied with only one cable.
Synchronization - Possible to configure one camera to be master and others to be slave(s) for applications that call for more than one camera to cover the object or for stereoscopic applications.
General Purpose Input/Output (GPIO) - One output that can be used to control other equipment and one input to read the status from the same equipment.
FLIR ResearchIR
FLIR ResearchIR is aimed at R&D-Science users of thermal imaging cameras with a cooled or uncooled detector. FLIR ResearchIR takes the most out of your thermal imaging camera and allows high speed recording and advanced thermal pattern analysis. ResearchIR is the perfect tool for industrial R&D labs.
FLIR ResearchIR Key Features:
View, record and store images at high speed
Post-processing of fast thermal events
Generate time-temperature plots from live images or recorded sequences
Advanced Start/Stop recording conditions
Unlimited number of analysis functions (Spot, Line, Area)
File organizer
Zoom & Pan allows a closer look
Multiple user-configurable tabs for live images, recorded images or plot
A35sc and A65sc Kits include:
Infrared camera with lens
Focus adjustment tool, base support
Gooseneck table stand
Hard transport case
PoE Injector (power over Ethernet)
Power and Ethernet cables
FLIR ResearchIR: Real-time image/data logging and plotting software