Flir CM83 Power Clamp Meter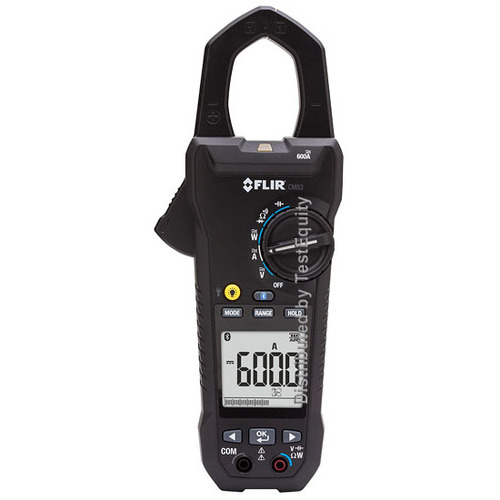 Brand:

Flir

Condition:

New
600 A, 1000 V
VFD Mode
Harmonics Mode
Phase Rotation
Inrush Current
METERLiNK Compatibility
Power Factor and Active Power
Bluetooth Connectivity
Bright Dual-LED Worklights
Rugged & Shock-Resistant
Limited Lifetime Warranty (when registered within 60 days of purchase)
Engineered with Versatility to Help You Manage Power Analysis & VFD Troubleshooting
The FLIR CM83 is an industrial-grade 600 Amp TRMS Power Clamp Meter engineered with advanced power analysis and VFD filtering functions required by electrical troubleshooters.
Features
Voltage and Current, Bright White LED Backlight, Analog Bargraph, Power Factor, Phase Rotation, Integrated Non Contact Voltage Detector, Min, Max, Average, Auto Power Off, Data Hold, Relative, Peak Hold, DCA Zero, and Battery Status.
Specifications:
Technical Summary
Range
Basic Accuracy
AC/DC Current
600 A
±2%
AC/DC Voltage
1000 V
±1% / 0.7%
Harmonics
1st-25th Order
±5%
Total Harmonic Distortion
0.0 to 99.9%
±3%
Inrush Current
600ACA
(Integration Time 100ms)
±3 %
Active Power
10kW to 600kW
(10V, 5A min)
±3%
Diode Test
0.4 to 0.8V
±0.1V
Capacitance
3.999mF Max
±1.9%
Resistance
99.99kΩ Max
±1%
Continuity Threshold
30Ω
±1%
Frequency
20.00Hz to 9.999kHz
±0.5%
Please refer to Data Sheet for complete specifications.
Includes: six (6) AAA Batteries, User Manual on CD and CAT IV Silicon Test Leads.