Flir DM284 Imaging Multimeter with IGM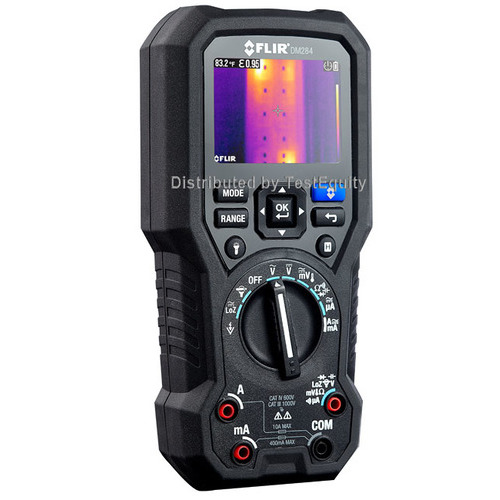 Brand:

Flir

Condition:

New
IGM Enabled View Thermal and Electrical / Thermocouple Measurements Simultaneously
1000 V ac/dc, 10.0 A ac/dc
Flex Clamp Range: 3000 A ac w/ optional TA72, TA74 Universal Flex Clamp Adapters
Additionally tests: Resistance, Continuity, Capacitance and Diode
True RMS, VFD / LoZ Mode
Bright Dual LED Worklights
3 Meter Drop Tested
Silicone Leads
IGM Enabled – 160X120 Thermal Imaging
Range: 14°F to 302°F (-10°C to 150°C)
Thermocouple input
Field of view: 46° x 35°
CAT III 1000 V, CAT IV 600 V
Ten-year warranty
All-in-one TRMS digital multimeter with IGM
The FLIR DM284 Imaging Multimeter with IGM is a professional, all-in-one True RMS digital multimeter and thermal imager that can show you exactly where an electrical problem is to speed up troubleshooting. Featuring Infrared Guided Measurement (IGM) technology powered by a built-in 160x120 FLIR thermal imager, the DM284 visually guides you to the precise location of an electrical problem, helping you pinpoint hot spots faster and more efficiently. IGM enables you to scan panels, connectors, and wires without requiring any direct contact — so you can do your job from a safe distance. Once you find an issue with IGM, the DM284 can verify and confirm findings with advanced contact measurement features to help solve the most complex electrical issues. Ideal for field electronics, commercial electric, light industrial, field service, and HVAC work.
Pinpoint problems quickly and safely with IGM:
Scan a panel or cabinet for hazards using IGM without direct contact
See exactly where to measure with the 160x120-resolution FLIR thermal imager
Built-in worklights and a laser pointer
All-in-one tool— carry just one device and always have access to thermal imaging
Included with FLIR DM284: Type K thermocouple, silicone test leads, and CAT IV insulated alligator probes.