Flir DM66 Digital Multimeter w/ VFD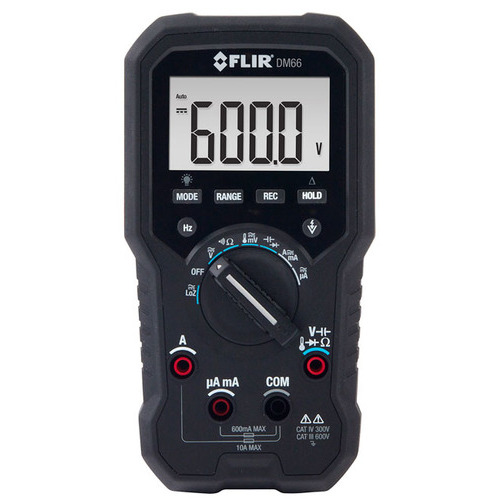 Brand:

Flir

Condition:

New
TRMS AC/DC Voltage/Current, Resistance, Resistance, Capacitance, Frequency and Temperature
600 V, 10 A, TRMS
Type-K thermocouple: -40°F to 752.0°F (±1.0% + 2.0°F ); -40°C to 400.0°C (±1.0% + 1.0°C)
6000 count backlit LCD display
Safely check voltage with non-contact voltage detection
Measure both AC/ DC voltage and current (A, mA, μA)
Broad DMM test functions incl. variable-frequency drive (VFD) mode and voltage range to 600 V
Operate the meter with one hand, thanks to compact design and easy-to-access buttons
Integral Probe Holder
Integrated non-contact voltage detector with a flashing backlight and audible indicator
Navigate the meter's on-screen menu system easily
2 m drop-tested and IP40 rated
Auto power off, MIN-MAX- AVG, relative mode, and data hold
CAT IV-300V, CAT III- 600V Safety Category Rating
FLIR Limited Lifetime Warranty
Note:
Shipping January, 2018.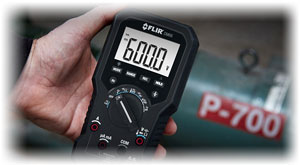 User-friendly design, intuitive interface, and enhanced ergonomics
The DM66 is ideal for automation field service or electronics technicians, providing a comprehensive feature set including low impedance (LoZ) mode, frequency, diode, capacitance, and a Type K thermocouple input for temperature measurement. The multimeter combines rich features, precise measurements, and quality construction into a tool of exceptional value.
Fast efficient testing and troubleshooting
The FLIR DM66 is well-suited to the requirements of electricians, automation field service and electronics repair technicians.
Included with DM66 True RMS Multimeter: two (2) AAA batteries, silicone test leads, alligator clips and soft carrying case.