Flir DM91 TRMS Multimeter with Datalogging and Bluetooth
Brand:

Flir

Condition:

New
Bluetooth®/METERLiNK® Backlit LCD, 6,000 count display Data Logging & Storage of 40000 readings IP40/3m 1,000 V, 10 A, 50 MΩ TRMS Measures 3 samples per second CAT III-1,000V, CAT IV-600V Limited lifetime warranty
Industrial TRMS Multimeter with Datalogging and Wireless Connectivity
The FLIR DM91 is an affordable, safe, and reliable digital multimeter suited for a wide range of electrical and electronic system applications. With durable design, intuitive user interfaces, and comprehensive features covering high and low voltage applications, the DM91 is uniquely positioned to help you troubleshoot electrical, electronic and HVAC/R systems. The DM91 is also enhanced with Bluetooth® technology, so you can connect via METERLiNK® to FLIR infrared cameras, or to mobile devices running FLIR Tools™ or the FLIR InSite™ workflow management system.
Fast, efficient work
The DM91 is designed and built to make your job faster and easier. Work longer without interruption, thanks to powerful LED worklights and flexible battery options. Plus, the DM91 offers a datalogging mode with onboard storage of up to 40,000 measurements, so you can document intermittent trends.
DM91 additional features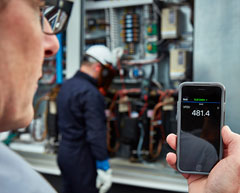 Rich feature set
Includes True RMS, VFD mode, μA measurement, LoZ, NCV, and more
Smart design and functionality
Intuitive user interface, large display screen, LED worklights
Safe
CAT IV-600V, CAT III-1000V Safety Category Rated
Durable
Drop-tested and IP54-rated for water resistance
Datalogging, connectivity
Included with DM91: batteries, silicone test leads, alligator clips, test lead storage/holder attachment and soft carrying case.