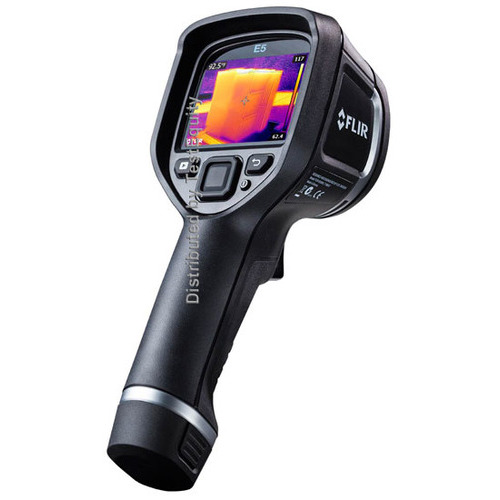 Brand:

Flir

Condition:

Used

Meta Keywords:

testequity, flir, e5
This is a discontinued product
Please see our newer model: E5-XT
IR Resolution: 120 x 90
Thermal Sensitivity: <0.10°C
Field of View: 45° × 34°
Frame Rate: 9 Hz
Image Modes: IR image, visual image, MSX, thumbnail gallery
Temperature Range: –4°F to 482°F (–20° to 250°C)
MSX® Thermal Image Enhancement
Focus-free lens
Removable Battery
2 - 5 - 10 Warranty (see description tab)
Thermal, Visible, and MSX Imaging
With the FLIR E5 you'll gain the competitive advantage and take care of more customers. The E5 will impress with dramatic MSX thermal images that clearly reveal problems from sources of energy loss, moisture intrusion and structural issues to overheating electrical and mechanical equipment.
The Power of One Button
A focus-free lens and simple button navigation to on-screen settings, imaging modes, measurement tools, and saved JPEGs make all four of these cameras amazingly easy to operate, even with just the press of a single gloved thumb.
Removable Battery
Quick-release, tool-type Li-ion battery is easy to remove, recharge and snap back in. Charge in-camera or with the optional charging station to keep you up and running all day.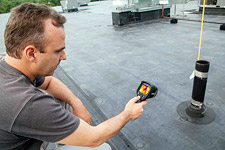 Fast Temperature Measurement Tools
In addition to an on-screen center spot meter for measuring temperatures the E5 also gives you an area box tool with an automatic hot or cold spot that hunts down temperature extremes.
Multiple Imaging Modes
The FLIR E5, as with all Ex-Series cameras, lets you view thermal, visual, and MSX images and store them simultaneously for further analysis using FLIR Tools software.
Included:
FLIR Tools reporting and analysis software
2 - 5 - 10 Warranty:

2 Years parts and labor coverage on the camera
5 Years coverage on the battery
10 Years coverage on the detector

Variable emissivity and reflected temperature parameters for detection accuracy
FLIR Ex Series Infrared Cameras
Features
FLIR E4
FLIR E5
FLIR E6
FLIR E8
IR Pixel Resolution
4,800 (80 x 60)
0,800 (120 x 90)
19.200 (160 x 120)
76,800 (320 x 240)
Thermal Sensitivity
<0.15°C
<0.10°C
<0.06°C
<0.06°C
Temperature Range
-4 to 482ºF (-20 to 250ºC)
Measurement modes
Centerspot
Centerspot, Area Box, Auto Hot/Cold detection
Frame Rate
9 Hz
Field of View
45º x 34º
Focus
Focus free
Auto Hot/Cold Detection
No
Auto min/max markers within area
This item is only offered for end use in the United States. Please contact us for sales to Canada.