Flir ETS320 Electronic Test Bench Thermal Camera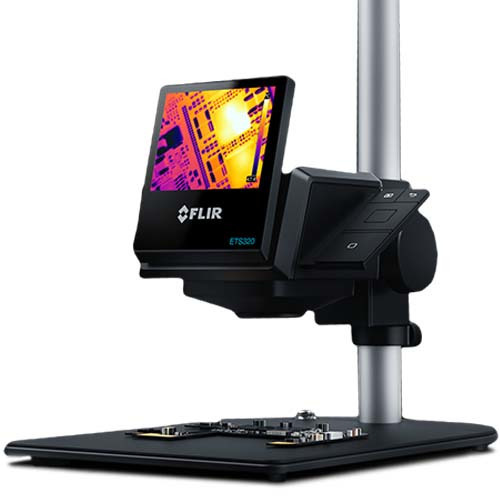 Brand:

Flir

Condition:

New

Meta Keywords:

ResearchIR
Thermal Imaging Solution for Electronics Testing
320 x 240 pixel IR detector; 9 Hz
45° field of view
Crisp 3" LCD display provides immediate thermal feedback
Thermal sensitivity (NEtD) of 0.06°C
Designed for hands-free laboratory testing
Wide temperature range, up to 250°C
Records standard radiometric JPEGs
Ergonomically designed for benchtop use
FLIR Tools+ software for instant analysis, including Time vs. Temperature measurement
Measurement accuracy of ±3°C promotes quality assurance and factory acceptance of PCBs
Pole mount included for fast and easy setup
Warranty: Camera: two years after registration; Detector: ten years
View Sample ETS320 Thermal Images
View Overview Video
Video: How to Use the FLIR ETS320
Video: Unboxing the FLIR ETS320
Pairing FLIR's advanced thermal imaging with an easy-to-assemble stand
The FLIR ETS320 thermal imaging solution is a thermal imaging camera designed for quick temperature checks on PCB boards and electronic devices in the lab. Engineered specifically for lab electronics testing, the ETS320 is battery-powered and hands-free, and connects via USB to your PC for immediate analysis and sharing of thermal data.
Take the guesswork out of thermal testing
The ETS320 is sensitive enough to detect subtle temperature difference with an accuracy of ±3%, letting product designers and test engineers quickly identify potential points of failure. The 320 x 240 IR detector offers more than 76,000 points of temperature measurement, eliminating the guesswork of legacy measurement tools.
An affordable solution for reducing test times
Whether R&D or product testing, heat can be an important indicator of how a system is functioning. The ETS320 helps engineers and test technicians collect accurate, reliable data in seconds and analyze it quickly.
FLIR ETS320 Key Advantages
Reduced test times: Quickly identify hot spots, thermal gradients, and potential points of failure
Improved product design: Know where and when to add fans and heat sinks, and ensure products are operating within specs for maximum lifetime
Save money: Improve rapid prototyping and reduce product development cycles
Optimize lab time: Battery powered and hands free, and offers complete measurement and analysis on the camera
Included with ETS320: Camera Mount, Stand, Power Supply, USB Cable and FLIR Tools+ Software.