Flir I60 DEMO Thermal Imaging InfraRed Camera
Flir I60 DEMO Thermal Imaging InfraRed Camera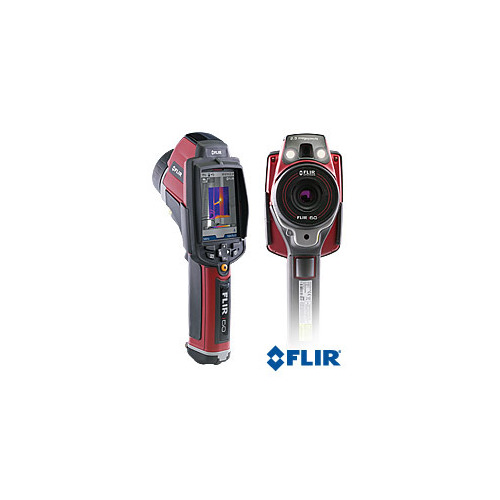 Condition:

New

Manufacturer:

Flir
Focal Plane Array detector with 180 x 180 pixels infrared resolution (32,400 pixels)
9 Hz Frame Rate
Built-in 2.3 Megapixel visible light digital camera with LED lamps
Functions include Scalable Picture-In-Picture (PIP) fusion, Copy to USB, Voice Annotation, Laser Pointer Marker and IR Window Correction
Area (Min/Max) Mode for Min/Max temperature readings within the selected area with Auto Hot/Cold spot marker
Wide temperature range: -4°F to 662°F (-20°C to 350°C)
Lightweight (1.3lbs), manual focus camera with 3.5" LCD display, easy one-handed operation and built-in laser pointer
0.1°C @ 25°C Thermal Sensitivity (NETD) provides the resolution needed to find problems faster and easier
MeterLink™ Bluetooth Wireless communication
Thumbnail Image Gallery function allows quick search of stored images
MicroSD™ card slot for image storage (more than 1,000 Radiometric JPEG images)
Includes QuickReport™ software for analysis of radiometric images
i-Series InfraRed Camera (180 x 180 IR Resolution)
With on board Visual Camera, Picture-in-Picture Fusion, and Bright LED Lights
FLIR i40, i50 and i60 are heavyweight performing infrared cameras for spotting electrical problems, identifying mechanical issues, predictive maintenance and identifying air leakages.
High Resolution IR Images - 32,400 pixels (180 x 180) Infrared resolution
Visible Light Digital Camera - 2.3MP resolution with flash provides sharp images regardless of lighting conditions
Scalable Picture in Picture (PIP) Fusion - Displays thermal image super-imposed over a digital image and is scalable to resize the thermal image
Bright LED Lights - Allow the visual camera and fusion to be used in poorly lit environments
Wide Temperature Range - From -4 to 662°F (-20 to 350°C) targeting electrical and industrial applications
±2% Accuracy - Reliable temperature measurement
Thumbnail Image Gallery - Allows quick search of stored images
Li-Ion Rechargable Battery - Lasts >5hrs continuous use; replaceable
Copy to USB - Easy upload of images from camera to USB memory stick
Laser LocatIR™ Pointer - Pinpoints a reference spot with a laser
Laser Marker - Marks the point on the IR displayed image as to where the Laser pointer is targeting
IR Window Correction - Software settings allow you to account for transmission loss through IR windows
Area (Min/Max) Mode - Shows the Minumum or the Maximum Temperature reading within the selected area
Auto Hot/Cold Spot Marker - Marks the area that automatically finds the hottest or coldest spot within the box
Voice Comment Recording - on images & can be integrated onto report
Wireless Communication - Bluetooth® Transmitter with METERLiNK™.
Includes: Memory Card with adapter (stores >1000 Radiometric JPEG images), Li-Ion rechargeable battery, power supply, QuickReport software, USB cable, hand strap, camera lens cap, and hard case; Bluetooth® USB micro adapter.
This item is only offered for end use in the United States. Please contact us for sales to Canada.