Flir T540 Professional Thermal Camera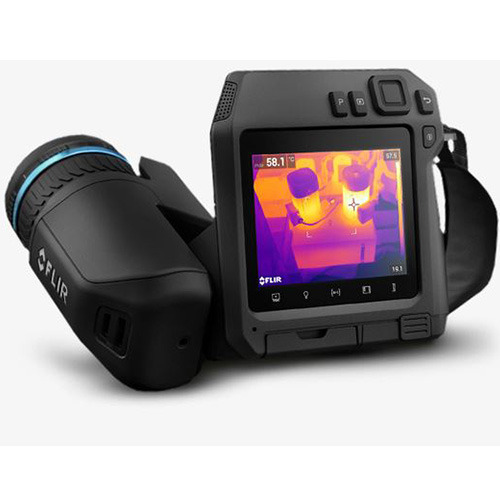 Brand:

Flir

Condition:

New

Meta Keywords:

testequity, flir, thermal camera, thermal imaging, t540
Accuracy: ±2°C (±3.6°F) or ±2% of reading
Color alarm (isotherm): •Above •Below •Interval •Condensation (moisture/humidity/dewpoint) •Insulation
Difference Temperature: Yes
Display Technology: IPS
Focal Length: 17 mm (0.67 in.), 24°
Housing material: PCABS with TPE, magnesium
IR Resolution: 464 × 348 pixels
Laser Alignment: Position is automatically displayed on the infrared image
Laser Pointer: Class 2, 0.05–40 m (0.16–131 ft.) ±1% of measured distance
NETD: <40 mK
Object Temperature Range: -20°C to 120°C (-4°F to 248°F) 0°C to 650°C (32°F to 1202°F) 300°C to 1500°C (572°F to 2732°F)
There are no optional ranges
Packaging Size: 500 × 190 × 370 mm (19.7 × 7.5 × 14.6 in.)
Programmable Buttons: 2
Resolution: 464 × 348 pixels (VGA)
Screening: 0.5°C (0.9°F) accuracy at 37°C (98.6°F) with reference
Size (L x W x H): Lens horizontal: 140 × 201.3 × 167.3 mm (5.5 × 7.9 × 6.6 in.)
Thermal Sensitivity/NETD: <40 mK, 24° @ 30°C (86°F)
Warranty: http://www.flir.com/warranty/
Text: Predefined list or touchscreen keyboard
Time Lapse [Infrared]: 10 sec to 24 hrs
Voice: 60 sec. recording added to still images or video via built-in mic (has speaker) or via Bluetooth
Weight & Dimensions (without lens): 1.3 kg (2.9 lbs), 140 × 201 × 84 mm (5.5 × 7.9 × 3.3 in)
Troubleshoot hot spots, find hidden faults, and confirm repairs quickly with the ergonomic, high-resolution FLIR T540.
This 161,472 (464 × 348) pixel thermal imaging camera has a bright 4" LCD and a 180° rotating lens platform, so you can easily and comfortably diagnose electrical or mechanical issues, even in hard-to-reach areas.
Advanced on-camera measurement tools such as 1-Touch Level/Span, plus laser-assisted autofocus, ensure you'll record accurate temperature measurements every time.