Fluke 050-CLKT 4 in IR Window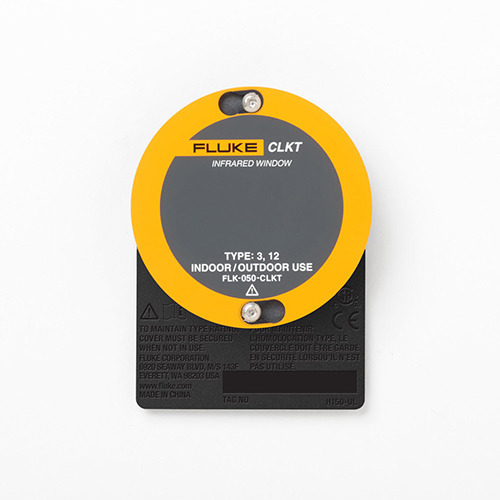 Brand:

Fluke

Condition:

New
Available in 2, 3, or 4 inch diameters

FLK-50-CLKT: 50 mm (1.97 in)
FLK-075-CLKT: 75 mm (2.96 in)
FLK-100-CLKT: 100 mm (3.94 in)

Can withstand an electric-arc up to 50 kA for 30 cycles
Totally insoluble ClirVu® crystal optic IR window
Revolutionary AutoGround safety system
Lifetime replacement warranty
Fluke Infrared (IR) Windows make it easier to comply with the NFPA 70E safety standard. Their arc-resistant crystal optics are engineered and tested to withstand the extreme pressures and temperatures of an electric arc-fault event up to 50 kA. Their unique Kwik Twist magnetic security cover further protects the viewing pane from accidental external impact, and is locked in place with a security access key. For added convenience, the Kwik Twist cover magnetically sticks to the metal panel.
Save Time and Conduct More Efficient Electrical Infrared Inspections
Once you've installed a Fluke infrared window there is no more need to power down or remove panel doors — you may never have to open the panel door again. Inspections are now conducted quickly, easily and safer than they were before.
Fluke CLKT Infrared Windows are Available in Three Sizes 50 mm (2 in), 75 mm (3 in) and 100 mm (4 in)
Each CLKT infrared window is engineered and tested to withstand electric-arcs up to 50 kA for 30 cycles.
The CLIRVU® coating - exclusive to Fluke infrared windows - seals the optic prior to assembly to protect against moisture degradation making it perfect for very hot and very cold outdoor environments.
Each Fluke infrared window is delivered with an identification plate attached for unique, on-site numbering for rapid location confirmation and faster repairs.
Includes a security access key, installation instructions, self-adhesive drilling template, and warranty statement.