Fluke 116 HVAC Multimeter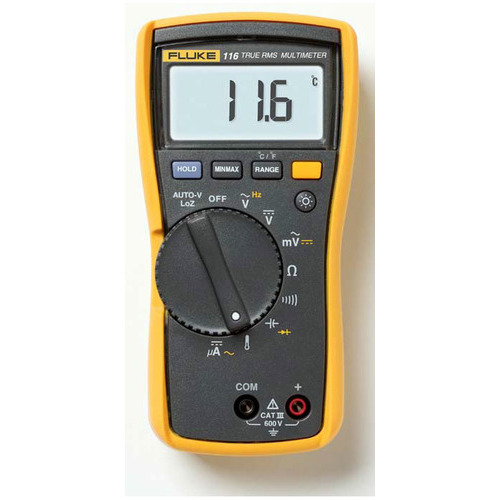 Brand:

Fluke

Condition:

New

Family Models:

FLUKE 116

Display Digits:

6,000 Count

True RMS:

Yes

Meta Keywords:

00116,Lubricants,LPS-00116
6,000 Count display
True RMS
Built in thermometer and temperature probe included for HVAC applications
Microamps to test flame sensors
LoZ: low input impedance to eliminate ghost (stray) voltage to make more accurate measurements
Large, white LED backlight to work in poorly lit areas
Compact ergonomic design for one-handed operation
Min/Max/Average to record signal fluctuations
Compatible with optional magnetic hanger (ToolPak)
Resistance, continuity, frequency and capacitance
CAT III 600 V safety rated
TL75 Hard Point Test Lead Set
3 Year Warranty
The Fluke 116 was specifically designed for the HVAC professional. It has everything needed in an HVAC meter including temperature and microamp measurements to quickly troubleshoot problems with HVAC equipment and flame sensors. Use the Fluke 116 to test motor start and run capacitors up to 10,000 microfarads. Rely on the Fluke 116 to make your everyday measurements – up to 600 volts ac or dc, 40 MΩ, diode test and exceptionally fast continuity.
Fluke116 Digital Multimeter. Designed by Electricians. Engineered by Fluke

Fluke 116 HVAC Multimeter with Temperature and Microamps
TL175 Hard Point Test Lead Set
TPak ToolPak Magnetic Meter Hanging Strap
Flexible Cuff Pipe clamp Thermocouple
80BK Integrated Temperature Probe
80AK-AThermocouple Adapter
C115 Deluxe soft carrying case with shoulder strap

Fluke 62 MAX+. Small in size. Big on toughness.

Dust and water-resistant: IP54 rated.
Rugged: 3-meter (9.8-foot) drop tested.
Ergonomically designed: Completely redesigned for a more natural hand fit.
Distance to spot: 12:1.
Dual lasers: Identifies area to be measured.
Large, backlit display: Makes data easier to read, even in dark areas.

Fluke 116/62 MAX+,

HVAC Digital Multimeter and IR Thermometer Combo Kit
Note: Fluke does not include a calibration certificate with these meters.