Fluke 1524-156 Reference Thermometer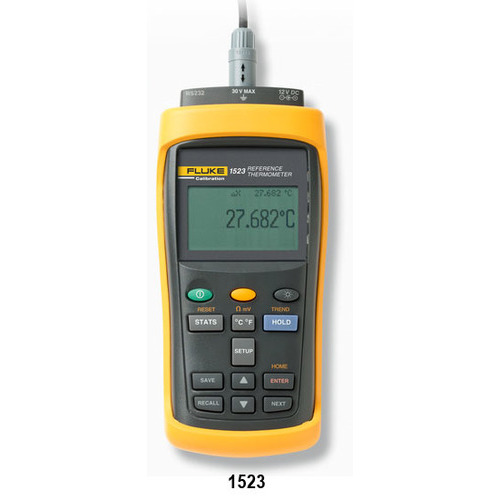 Brand:

Fluke

Condition:

New
Measure, graph and record three sensor types with one tool
Fluke 1523: Single channel standard model; memory for 25 readings and statistics
Fluke 1524: Two channels; memory for logging 15,000 measurements; real-time clock for time and date stamps
PRTs: -200°C to 1000°C
Thermocouples -200°C to 2315°C
Precision thermistors: -50°C to 150°C
128 x 64 backlit LCD graphic display
Plot and scale trends in real time
Simultaneous dual channel readings
Two models let you make the best choice for your application
The 1523 Reference Thermometer is a versatile single-channel thermometer that measures, graphs and records three sensor types with one tool. Support for PRTs/RTDs, thermocouples, and thermistors provides flexibility to choose the right probe for the job.
The 1524 Reference Thermometers help you do twice the work in half the time. Two channels and three sensor types and high-speed measurement make you more productive and make model 1524 the one reference thermometer you need to own. It has all the features of the 1523, and it's a temperature logger too. A real-time clock and memory for 15,000 time and date stamped measurements mean everything you are going to need is in this package. Log up to three times per second, or once every hour or other options in between. Download the temperature logger data to a PC for analysis when you need it.
Make accurate, consistent measurements... anywhere
The Fluke 1523 and Fluke 1524 Reference Thermometers from Fluke Calibration measure, graph, and record PRTs, thermocouples, and thermistors. These thermometer readouts deliver exceptional accuracy, wide measurement range, temperature logging, and trending, all in a handheld tool you can take anywhere.
The Fluke 1523 and Fluke 1524 let you handle field applications, laboratory measurements, and data logging with ease. And with the dual channel measurement capabilities of the model Fluke 1524, you can do twice the work in half the time.
Applications
Calibration, loop checking, plant startup, troubleshooting, maintenance, and repair are some of the varied duties that need a 1523 or 1524 thermometer. Use it for a handy temperature reference and temperature logger in baths, dry-block calibrators, thermowells, clean rooms, engines, heat exchangers, furnaces, freezers, or anything else that must be calibrated, checked, or maintained.