Fluke 1748 Three-Phase Power Quality Logger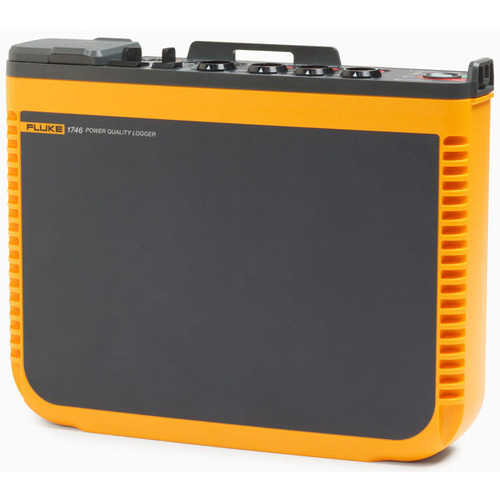 Brand:

Fluke

Condition:

New

Family Models:

FLUKE 1748 15 EUS
Measures voltage, current, power, power factor, frequency, energy forward/reverse, peak demand, THD, Voltage and current harmonics, unbalanced loads, Rapid voltage change events, interharmonics, dips & swells, inrush current, Transients (low frequency)/Waveform deviation events and flicker
Comprehensive logging: can store >20 separate logging sessions
Optimized user interface
Meets the rigorous IEC 61000-4-30 Class A Edition 3 standard for Testing and Measurement Techniques
Flexible power supply
Two external USB ports and ethernet connectivity
Compact, rugged and reliable
Highest safety rating in the industry: 600 V CAT IV/1000 V CAT III
Optimized measurement accessories
Four-hour operating time on battery
One-year warranty
Measure all three voltage and current phases plus the neutral current
The Fluke 1748 logs over 500 different parameters for each averaging period. This allows you to analyze power quality in detail and to correlate intermittent events with detailed waveform data, helping to identify the root cause of disturbances.
Measure with premium accuracy
Compact and rugged, the Fluke 1748 is designed specifically for technicians and engineers who need the flexibility to troubleshoot, quantify energy usage and analyze power distribution systems. Fully compliant with international power quality standards such as IEC 61000-4-30 and capable of simultaneously logging up to 500 parameters while also capturing events, the Fluke 1748 helps uncover intermittent and hard-to-find power quality issues more easily than ever. The included Energy Analyze plus software quickly assesses the quality of power at the service entrance, substation, or at the load, according to national and international standards like EN 50160 and IEEE 519.
Graphical PC-based application setup
An optimized user interface, flexible current probes, and an intelligent measurement verification function that allows you to digitally verify and correct connections makes setup easier than ever and reduces measurement uncertainty. Minimize your time in potentially hazardous environments and reduce the hassle of suiting up in PPE by using a wireless connection (WiFi) to view data directly in the field.
Thoughtful design
The 1748 power quality logger include simple but effective accessories like the MA-C8 adapter making powering the instrument with a line cord easy when not in the field. Ports that aren't always needed in the field are IP65 protected including the Ethernet, USB, AUX and I/O ports protecting for both moisture and dirt ingress. The status LEDs give a quick and clear indication of what the instrument is doing without having to touch any controls. And its compact size means that in most cases it will fit into the available space without any problems.
Advanced data communication and software:
View real-time measurements wirelessly from outside the panel or from your office using the included Fluke Energy Analyze plus software
Download logged files directly to a USB flash drive that plugs directly into the USB port of the instrument or by wired or WiFi connection to your PC
The export function of Energy Analyze plus enables export of one or more logged values with a simple parameter selector
Fluke 1740 Series Three-Phase Power Quality Loggers

Flexible current probes are included with 174x Loggers.
| | | | |
| --- | --- | --- | --- |
| Recording | 1742 | 1746 | 1748 |
| Energy | ▄ | ▄ | ▄ |
| Basic Power Quality | Optional | ▄ | ▄ |
| Advanced Power Quality | Optional | Optional | ▄ |
Included with 1748/B/EUS: power cord, USB stick, USB cable, 3PHVL-1730 3-Phase + neutral voltage test lead, test lead set red/black 0.18 m, test lead set red/black 1.5 m, four (4) alligator clips, soft case, cable marker kit, MP1-3R/1B-magnet probe kit, 174x-hanger kit and WiFi/BLE adapter. Also included with 1748/15/EUS and 1748/30/EUS: four iFlex current probes.