Fluke 1750 Three-Phase Power Quality Recorder
Condition:

New

Drill Down Description:

Three-Phase Power Quality Recorder

Model:

1750

Quote Required:

No

Web Meta Description:

Explore our options for a Fluke FLUKE 1750/ET Three-Phase Power Quality Recorder. With various sizes and selections, you are sure to find the perfect solution at TestEquity.

S3 Part Number:

25130.1
FLUKE 1750 ET
Power quality that meets the standard All measurements comply with IEC61000-4-30 standards for evaluation of all measured values including voltage, current, power, harmonics, flicker etc.
Quick and reliable configuration A tablet computer provides a window into what the instrument is recording, enabling quick and reliable configuration even in awkward test locations
Threshold-free set up Apply thresholds after data is collected with Fluke Power Analyze Software – no need to worry about missed information due to incorrect setups
Captures everything Cross-channel and current triggering capture every measurement, on every channel, every time
Intuitive PC software Easily analyze data and generate reports with automated EN50160 reporting and compliance
Reporting has never been easier Auto Report creates either standard reports or customized reports with the minimum effort or hassle. Export reports to almost any format including RTF (Rich Text Format) for editing in Microsoft Word.
Plug and play Set up in minutes with self-identifying current probes and single-lead voltage connections
No need to reconnect wires Swap channels internally with the wireless PDA or PC when connections are not correct
Measure every parameter Voltage and current on three phases, neutral, and ground
5 MHz, 8000 Vpk waveform capture Get a detailed picture of even the shortest events
Quickly retrieve data With included SD memory card or via the 100 BaseT high-speed Ethernet connection. SD card includes automatic download to SD when no other connection is made to the instrument
Record three-phase power quality and monitor for power quality disturbances with the new Fluke 1750 Power Recorder and the Fluke Power Analyze software. These power meters automatically record every power quality parameter and event, on every cycle – all the time.
Applications
Long-term analysis: Uncover hard-to-find or intermittent issues
Power quality surveys: Quantify power quality throughout a facility, documenting results with professional reports
Quality of service compliance: Validate incoming power quality at the service entrance
Semi-permanent monitoring: Monitor critical equipment, capturing power quality events to correlate with equipment malfunctions
The recorder automatically detects, scales, and powers current probes without needing batteries. Requiring only single-lead voltage connections enables safe and quick setups. Once power is applied the instrument automatically begins recording and LEDs give you assurance that the recorder is powered up and signals are within range — no more uncertainty that data is being recorded. The Fluke 1750 has an exclusive capture algorithm which makes certain all events are captured without the tedious setups and blind spots associated with threshold driven equipment. The PDA wirelessly interfaces with the recorder, allowing quick setup and verification with waveform displays, meter screens, and phasor diagrams. The built-in wireless technology allows you to control multiple instruments from a distance easily, without the need for a laptop computer (laptops can also be used when desired).
Included with Fluke-1750-TF: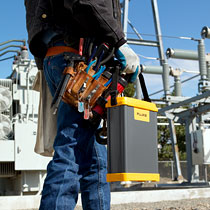 1750 acquisition unit
Windows 10 tablet "front panel interface" and charger power plug adapters
4 - 3210-PR-TF-II 1,000A Fluke 1750 Thin Flex-II
5 test leads and clips
SD memory card
Fluke Power Analyze software
Power cord with international plug set
Ethernet cable
Color localization set
Printed Getting Started manual
Product CD with software and users manual PDF
CS 1750/1760 Rugged transit softcase
Included with Fluke 1750-TF/ET
4 x 3120 flexible current probes
Included with Fluke-1750/ET
Items listed above, excluding 4 x 3120 flexible current probes, but including 4 x 400A current clamps (type 3140R)
Included with Fluke-1750/ET
Items listed above but excluding 4 x 3120 flexible current probes and 4 x 400A current clamps
(/NT Models) Fluke-1750-TF/NT, Fluke-1750/NT, and Fluke-1750/B/NT do not include the Windows 10 tablet