Fluke 1760 Power Quality Recorder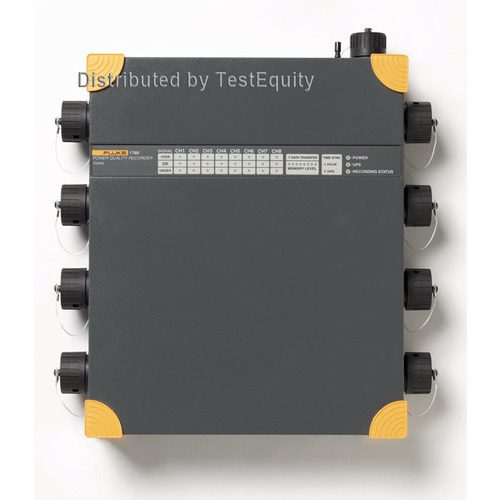 Brand:

Fluke

Condition:

New

Family Models:

FLUKE 1760 TR US
Three-Phase Power Quality Recorder Topas
Fully Class-A compliant: International IEC 61000-4-30 Class-A standard
GPS time synchronization: Correlate data with events or datasets
Uninterrupted power supply (40 minutes): Ability to record the beginning and end of interruptions and outages to help determine the cause
10 MHz, 6000 Vpk waveform capture: Get a details of even the shortest event
2 GB data memory: Enables detailed, simultaneous recording of numerous power parameters for long periods of time
Comprehensive software included: Trend diagrams for root cause analysis, statistical summaries, report writing and real-time data monitoring in the online mode
Plug and play: Allows quick setup with automatic sensor detection; sensors are instrument powered, eliminating the need for batteries
Rugged field design: Insulated housing and a solid state design with no rotating components enable reliable testing under nearly any conditions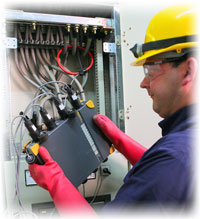 Class-A Compliance for the Most Demanding Power Quality Tests
The Fluke 1760 Three-Phase Power Quality Recorder is the ideal portable instrument for power quality experts. It is fully compliant to IEC 61000-4-30 Class-A, for advanced power quality analysis and consistent compliance testing. Designed for analysis of utility and industrial power distribution systems, in medium- and low-voltage networks, the Fluke 1760 provides the flexibility to customize thresholds, algorithms, and measurement selections. It captures the most comprehensive details on user-selected parameters and allows for later analysis and reporting.
User-Configurable Operation
The versatile measurement algorithms and trigger settings allow the expert and general users to optimize the Fluke 1760 for each application in order to capture exactly the data required. Data can be transferred to a computer directly, or via an Ethernet network and can be retrieved during recording without interrupting the measurements.
Rugged and Reliable
The instrument, accessories, and power supply help you safely conduct tests with a 600 V CAT IV rating per EN 61010-1 conformity requirements. The Fluke 1760 features a double insulated enclosure, which helps protect the user, equipment, and surroundings from electrical shock. With a 2 GB compact flash memory instead of a hard disk, there are no rotating parts inside the instrument, increasing its reliability and durability for everyday use.
Broad Measurement Range
Developed in cooperation with power utilities, the EN50160 statistical analysis presents a summary of the quality of voltage against internationally defined limits. When a threshold is exceeded, the Fluke 1760 automatically captures voltage and current waveform data on all phases simultaneously. Nearly every power quality and power parameter is measured, including rms values, flicker, voltage dips, voltage swells, voltage unbalance, current and voltage harmonics to the 50th, interharmonics, THD, mains signaling, reactive power, transients, and power factor.
All models include (refer to table below for model-specific additional accessories): Internal Flash-memory 2 GB, PQ Analyze software on CD-ROM, Ethernet cable for network connection (1), Crosslink Ethernet cable for direct PC connection (1), Mains cable (1), Operational manuals, Carrying bag, and two-year warranty.

1760 Basic

1760TR Basic

1760 US

1760TR US
Specifications
8 input-channels (4 currents /
4 voltages or 8 voltages)
8 input-channels
(4 currents / 4 voltages
or 8 voltages)
8 input-channels (4 currents /
4 voltages or 8 voltages)
8 input-channels (4 currents /
4 voltages or 8 voltages)
Additional Accessories
–
Fast transient analysis
up to 10 MHz
Voltage probes, qty 4 (600 V for INTL set, 1000 V for US set), Current probes, qty 4 (Dual-range flexible current probes 1000 A / 200 A AC), GPS time sync receiver
Fast transient analysis up to 10 MHz, Voltage probes, qty 4 (600 V for INTL set, 1000 V for US set), Current probes, qty 4 (Dual-range flexible current probes 1000 A / 200 A AC), GPS time sync receiver