Fluke 289/FVF FlukeView Forms Combo Kit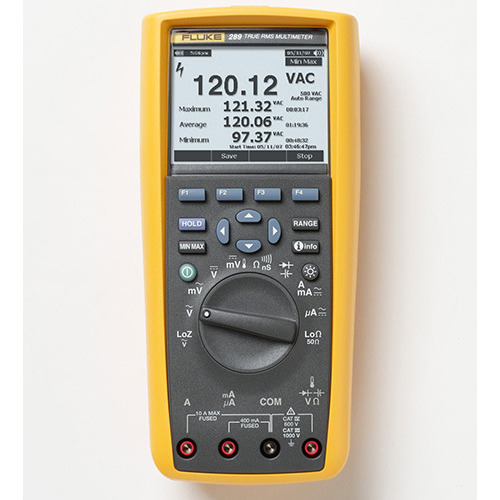 Brand:

Fluke

Condition:

New

Family Models:

FLUKE 289 FVF

Display Digits:

50,000 Count

True RMS:

Yes
Fluke-289/FVF Kit includes:
Fluke-289 True-rms Industrial Logging Multimeter with TrendCapture, LoZ, LoPass filter, and Lo Ohms
FVF-SC2 FlukeView Forms Software and cable
TL71 Silicon Test Lead Set | AC72 Alligator Clips
80BK-A Integrated DMM Temperature Probe
TPAK Magnetic Meter Hanger for hands-free operation
C280 Soft Case for meter protection and accessory storage
Large 50,000 count 320x240 (1/4 VGA) dot matrix display
0.025% Basic DC accuracy
100 kHz ac bandwidth
True-rms ac voltage and current
Measure up to 10A (20 A for 30 seconds; 10A continuous)
Maximize productivity with the combined Fluke 289 and FlukeView forms combo kit
With built-in data logger and TrendCapture capability, the 289 helps you track down elusive, intermittent problems, monitoring equipment with any of its functions while you do other jobs. Overlay your logged data from six meters or six time periods to find cause and effect relationships or for condition monitoring applications in FVF software. Turn your data into meaningful graphs and tables for a professional report. The 289/FVF combo kit gives you a practical and affordable approach to predictive maintenance.
Fluke 289 Logging DMM
additional features
Logging function with TrendCapture for easy review of logged data
Multiple readings per display provide more information at a glance
"i"-info button for convenient on-board help
PC interface for easy data transfer
Lo Pass filter for motor drive measurements
LoZ - Low impedance function to prevent false "ghost voltage" readings
Low ohm measurements (50 ? range) for motor winding applications
Limited lifetime warranty