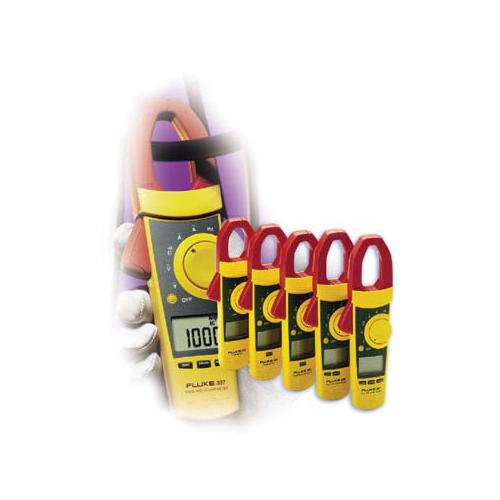 Brand:

Fluke

Condition:

New

Family Models:

333A, 334A, 335A, 336A, 337A

Discontinued:

Yes
The Fluke 330 Series gives clamp meter a whole new meaning. Five new models offer an impressive array of innovative features with current ranges up to 1000 A. Choose the model that matches the jobs you do.
Auto shut-off maximizes battery life so the meter works when you need it
Small body and jaws fit perfectly in your hand and into tight places
Large, backlit display (Models 334-337)
Inrush current function measures starting current for motors, lighting, and more (Models 334-337)
True-rms (Models 335-337)
DC current (Models 336-337)
Frequency and MIN/MAX (Model 337)
Improved low current measurement accuracy from new microprocessor technology
Meter controls are positioned so current measurements can be done with one hand (index finger on clamp opening lever and thumb on rotary switch)
Handy display hold keeps measurements on the display
Three-year warranty

This series has been discontinued. Recommended replacements are the Fluke 373, 375, 375, or 376.
All models include a soft carrying case, TL75 test leads and (2) AA alkaline batteries.
| | | | | | |
| --- | --- | --- | --- | --- | --- |
| | 333A | 334A | 335A | 336A | 337A |
| AC Current | 400.0 A | 600.0 A | 600.0 A | 600.0 A | 999.9 A |
| AC Voltage | 600.0 V | 600.0 V | 600.0 V | 600.0 V | 600.0 V |
| DC Voltage | 600.0 V | 600.0 V | 600.0 V | 600.0 V | 600.0 V |
| Resistance | 600.0 Ohms | 6000 Ohms | 6000 Ohms | 6000 Ohms | 6000 Ohms |
| Inrush | | 100 mS | 100 mS | 100 mS | 100 mS |
| Backlight | | YES | YES | YES | YES |
| True-rms | | | YES | YES | YES |
| DC Current | | | | 600.0 A | 999.9 A |
| Frequency | | | | | 5 to 400 Hz |
| MIN/MAX | | | | | YES |