Fluke 376 FC AC/DC Clamp Meter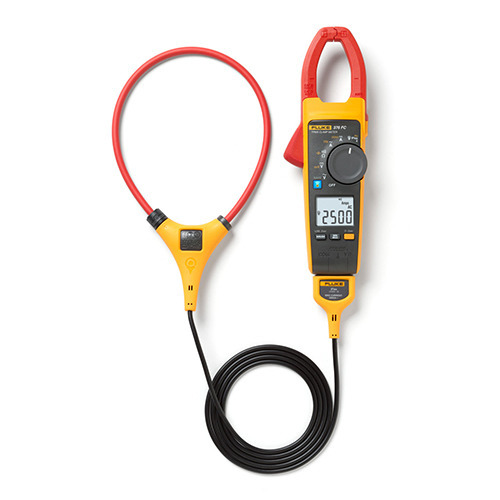 Brand:

Fluke

Condition:

New

Family Models:

FLUKE 376 FC

Display Digits:

3.75

True RMS:

Yes
AC/DC to 999.9 A
iFlex flexible current probe expands the measurement range to 2500 A AC
CAT IV 600 V, CAT III 1000 V
True-RMS AC voltage and current for accurate measurements on non-linear signals
Min, max, average and inrush recording to capture variations automatically
Integrated low pass filter and state of the art signal processing allows for use in noisy electrical environments while providing stable readings
Proprietary inrush measurement technology to filter out noise and capture motor starting current exactly as the circuit protection sees it
Ergonomic design fits in your hand and can be used while wearing protective equipment
Large, easy to read backlight display automatically sets the correct measurement range so you do not need to change the switch positions while taking a measurement
Replaces the 376 with better performance
Three-year warranty

Be ready for anything.
The Fluke 376 FC Clamp Meter offers improved performance perfect for a wide range of current measurement situations. With true-RMS voltage and current measurements, the Fluke 376 can read up to 1000 V and 1000 A in both AC and DC modes.
Additionally, the Fluke 376 FC includes the new iFlex™ flexible current probe, which expands the measurement range to 2500 A ac while providing increased display flexibility, ability to measure around awkward sized conductors and improved wire access.
Fluke Connect: the Largest Suite of Connected Test Tools in the World!
The Fluke Connect wireless system is the best way for maintenance technicians to stay in contact with their teams without leaving the field. The Fluke Connect app works with scores of Fluke tools to make diagnosing and solving problems easier than ever. By using the Fluke Connect tools with the app, you can efficiently and safely capture, store and share maintenance data from the field.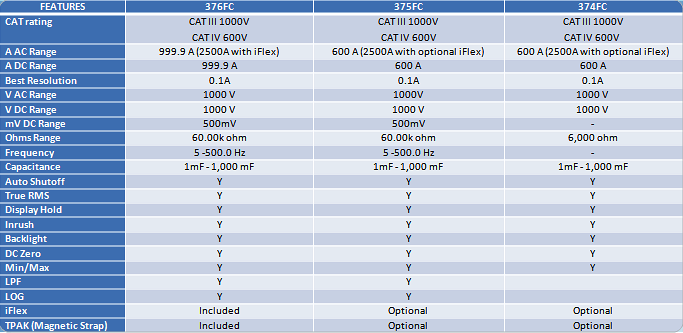 Includes: 18-inch iFlex™ flexible current probe, coated instruction card, safety information sheet, soft carrying case, TL75 test leads and two (2) AA Alkaline batteries.