Fluke 434-II Three-Phase Energy Analyzer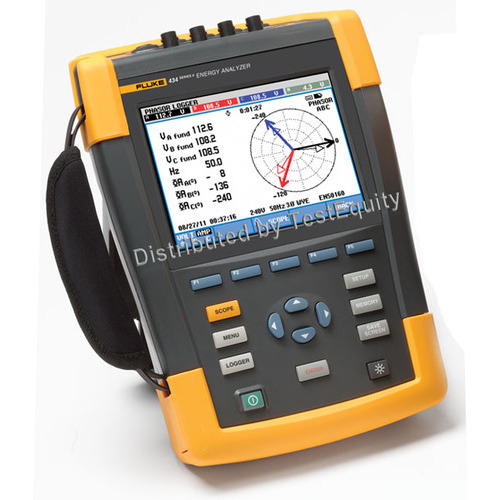 Brand:

Fluke

Condition:

New

Family Models:

FLUKE 434-II
Energy loss calculator: Classic active and reactive power measurements, unbalance and harmonic power, are quantified to pinpoint the fiscal costs of energy losses.
Troubleshoot real-time: Analyze the trends using the cursors and zoom tools.
Highest safety rating in the industry: 600 V CAT IV/1000 V CAT III rated for use at the service entrance.
Measure all three phases and neutral: With included four flexible current probes with enhanced thin flex design to fit into the tightest places.
Automatic Trending: Every measurement is automatically recorded, without any set-up.
System-Monitor: Ten power quality parameters on one screen according to EN50160 power quality standard.
Logger function: Configure for any test condition with memory for up to 600 parameters at user defined intervals.
View graphs and generate reports: With included analysis software.
Battery life: Seven hours operating time per charge on Li-ion battery pack.

Calculate energy loss in dollars
The new 434 Series II Three-Phase Power Quality Analyzer offers the best in power quality analysis and introduces, for the first time ever, the ability to monetarily quantify energy losses. The Fluke 434 II is the ideal tool for energy logging. Utilizing the new Energy Loss Calculator function, the 434 II measures the fiscal cost of energy wasted due to poor power quality. This energy monetization capability allows you to identify the most energy-wasteful areas of your facility so you can determine potential energy saving solutions. Add basic power quality measurements to the package and you're got yourself one powerful troubleshooting tool.

AutoTrend - Quickly see the trend
Unique AutoTrend gives you fast insight into changes over time. Every displayed reading is automatically and continuously recorded without having to set up threshold levels or interval times, or having to manually start the process. You can quickly view trends in voltage, current, frequency, power, harmonics or flicker on all three phases plus neutral. And you can analyze the trends using the cursors and zoom function mdash; even while background recording continues.

SystemMonitor - Check performance against EN50160 with ease
With a single push of a button, the unique System-Monitor gives you an overview of power system performance, and checks the compliance of incoming power to EN50160 limits or to your own custom specifications. The overview is shown on a single screen, with color-coded bars clearly indicating which parameters fall outside the limits.

Applications

Energy monetization — calculate the fiscal cost of energy waste due to poor power quality
Long-term analysis — uncover hard-to-find or intermittent issues
Frontline troubleshooting — quickly diagnose problems on-screen to get your operation back online
Predictive maintenance — detect and prevent power quality issues before they cause downtime
Load studies — verify electrical system capacity before adding loads
Energy assessment — quantify the before and after installation improvements in energy consumption to justify energy saving devices

Includes: BC430 Power Adapter, International plug adapter set, BP290 (Single capacity Li-ion battery) 28 Wh (7 hours or more), TL430 Test lead and Alligator clip set, WC100 color coding clips and regional decals, i430flex-TF, 24 inch (61 cm) length, 4 clamps, 8 GB SD card, PowerLog on CD (includes operator manuals in PDF format), USB cable A-Bmini, and C1740 Soft Case. Please note: 434-II/BASIC does not include current probes. These must be ordered separately.