Fluke 568 Infrared Thermometer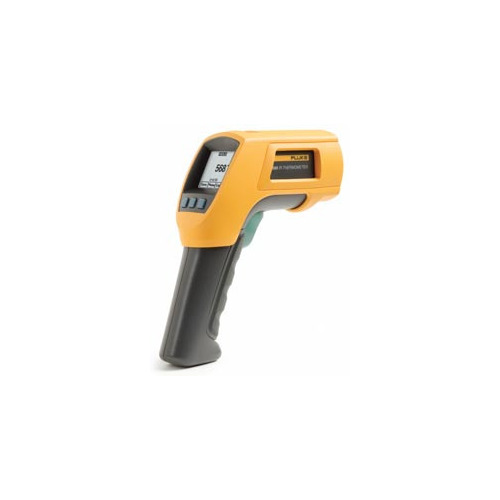 Brand:

Fluke

Condition:

New

Family Models:

FLUKE 568
Measure -40 °C to 800 °C /-40 °F to 1472 °F
Easily access advanced features with the soft-key buttons and dot-matrix display
Measure smaller objects from afar with a 50:1 distance-to-spot ratio
Compatibility with all standard miniconnector Type-K thermocouples allow you to preserve your thermocouple investments
Confidently measure a wide variety of surfaces, with the adjustable emissivity feature, including a built-in material table
Capture up to 99 points of data for downloading and reviewing
Easily adapt to lighting conditions with 2 levels of backlight
Audible and visual alarms instantly alert you to measurements outside of your set limits
Quickly identify problems with the MIN, MAX, AVG, and DIF functions
Make contact thermometer measurements right away with the included Type-K thermocouple bead probe
Confidently troubleshoot equipment with 1% measurement accuracy
Versatile interface with 6 languages from which to choose
Includes: Thermocouple K bead probe, Durable hard case, 2 AA batteries, Getting Started guide in 6 languages, USB cable, FlukeView® Forms software on CD, User's Manual on CD in 6 languages, 2-Year warranty
Two-in-one IR and contact thermometers with an innovative dot matrix display
With a simple, 3-button on-screen menu interface (in 6 languages) the Fluke 568 digital laser thermometer makes even complex measurements easy. Quickly navigate advanced features to adjust emissivity, start data logging, or turn on and off alarms — with just a few pushes of a button.
With a rugged, easy-to-use, ergonomic design, the Fluke 568 two-in-one contact and non contact thermometers can stand up to tough industrial, electrical, and mechanical environments. These tools go beyond other IR thermometers (or pyrometers), helping you work more efficiently in more applications.
Easily trend and analyze data with included FlukeView® Forms software
Quickly download stored data with USB connection
See your data right away without leaving the site, using the USB and your laptop
Extend your battery life by powering the digital thermometer from your laptop via the USB
Note: Fluke does not include a calibration certificate with this meter.