Fluke 62 MAX IR Thermometer
Fluke 62 MAX IR Thermometer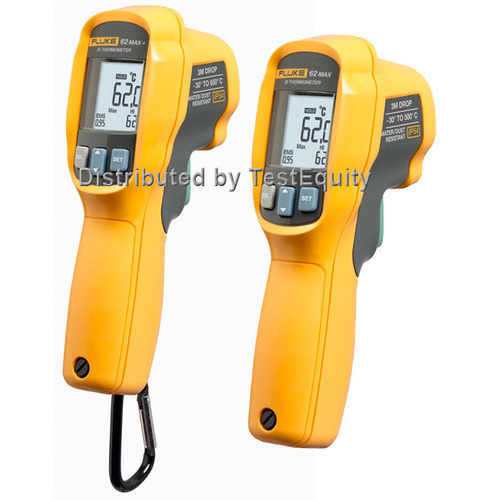 Manufacturer:

Fluke

Condition:

New

Family Models:

62 MAX, 62 MAX+
Temperature Range:
62 Max: -22°F to 932°F (-30°C to 500°C)
62 Max+: -22 °F to 1202 °F (-30°C to 650°C)
Accuracy:
62 Max: ± 1.5°C or ± 1.5 % of reading
62 Max+: ± 1.0°C or ± 1.0 % of reading
Response Time (95 %):
62 Max: <500 ms
62 Max+: <300 ms
Optical Resolution:
62 Max: 10:1
62 Max+: 12:1
Display Resolution: 0.2°F (0.1°C)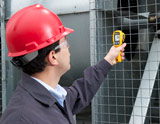 Small in size. Big on toughness.
Designed with your on-the-job needs in mind, the new Fluke 62 MAX and 62 MAX+ infrared thermometers are everything you'd expect from the experts in measurement tools: small in size, extremely accurate and very easy to use, IP54 rated for dust and water resistance, and precise yet rugged enough to take a 3-meter drop. With the 62 MAX and 62 MAX+ handheld, non-contact IR thermometers, you can instantly measure equipment temperatures in hard to reach or hazardous areas. And with early detection of abnormal temperatures comes early correction of problems.
Additional Features
Distance to spot: Precise laser technology makes for more accurate and repeatable measurements.
Dual lasers: The 62 MAX+ has dual rotating lasers to help you identify area to be measured. The measurement area is the spot between the dots.
Large, backlit display: Large screen makes data easier to read, even in dark areas.
Min/Max/Avg/Dif: Displays the minimum, maximum or average temperature, or the difference between two measurements.
Alarm: Hi and Lo alarms for rapid display of measurements outside the limits.
Power: Both the 62 MAX and 62 MAX+ are powered by a single, standard AA battery.
Equipped with a carabiner (62 Max +)
Please refer to Data Sheet for complete specifications.