Fluke 62 Mini Infrared Thermometer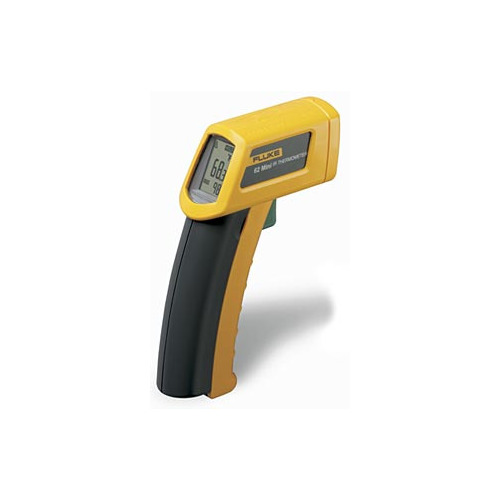 Brand:

Fluke

Condition:

Used

Family Models:

62
This is a discontinued product
Temperature range -30° to 500°C (-20° to 932°F)
Best accuracy in its class - ±1% of reading or ±1°C (±2°F)
Robust, award winning design
Backlit display for poorly lit areas
Holds temperature readings for 7 seconds
Dual displays shows current and max measurements simultaneously
Protective rubber boot for added durability
Comfortable ergonomic handle
Discontinued. Availability limited to stock on hand.
Replaced with the 62 MAX and 62 MAX+ IR Thermometers.
The Fluke 62 Mini non-contact thermometer is the perfect introduction to infrared (IR) thermometers for the professional. With the best accuracy in its class, the Fluke 62 mini offers quick and reliable surface temperature readings. This compact and portable tool enables professionals to diagnose heating and ventilation problems and monitor the Temperature of electrical motors and electrical panels without contact.
The Fluke 62 Mini thermometer makes troubleshooting quick and easy. The single dot laser sighting system allows users to target measurements in less than a second; the large temperature display provides current and MAX surface temperatures. The protective boot and ergonomic grip make the Fluke 62 Mini the choice model in its class for use in a work environment.
Temperature measurement techniques:
Spot measure: Determine the absolute surface temperature of an object
Temperature differential: Compare two spot measurements against each other
Scanning: Detect changes along a wide or continuous region target
Specifications
Temperature range: -30° to 500°C (-20° to 932°F)
Distance to Spot size: 10:1
Laser sighting: Single point, offset
Emissivity: Pre-set to 0.95
Accuracy: ±1% of reading or +1°C (±2°F), whichever is greater
Response time: less than 1/2 second
Weight/Dimensions: 7 oz (200g) / 152mm x 101mm x 38mm (6" x 4" x 1.5").
Power: 9V Alkaline Battery
Battery Life (Alkaline): 10 hrs. w/laser & backlight on 20 hrs. w/laser and backlight off
Display Hold: 7 seconds
Warranty: 2 years, conditional
Includes 9V alkaline battery, operator's guide, protective boot, storage holster

Note: Fluke does not include a calibration certificate with these meters.