Fluke 7526A Precision Process Calibrator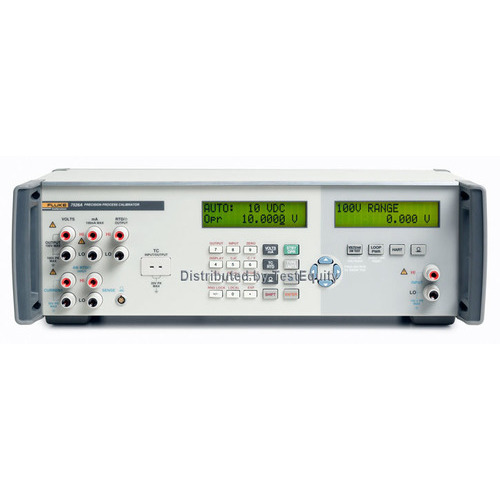 Brand:

Fluke

Condition:

New

Family Models:

7526A-156
Sources and measures dc voltage, current, resistance, RTDs and thermocouples
Precision pressure measurement using Fluke 700 or 525A-P series pressure modules
Includes 24 V dc transmitter loop power supply
Measures 4-20 mA loop current
Includes automated switch-test function
Accepts ITS-90 coefficients for accurate SPRT measurements
Compatible with MET/CAL® Calibration Software
Intuitive user interface
Versatility, precision and Value in One benchtop Process Calibration Tool
The Fluke Calibration 7526A Precision Process Calibrator offers the best balance of economy and accuracy for benchtop calibration of temperature and pressure process instrumentation. The 7526A easily calibrates RTD and thermocouple readouts, pressure gauges, temperature transmitters, digital process simulators, data loggers, multimeters and more.
A "best fit" for your Process Calibration Requirements
instruments that measure process variables such as temperature and pressure must be calibrated at regular intervals. Selecting the right calibrator for the job, however, can be tricky — especially when attempting to balance precision and versatility with cost. Less expensive than high-end multi-product calibrators, yet more precise and versatile than handheld field calibrators, the 7526A is a "best fit" for instrument shops that value precision, versatility and economy.
Calibrate Temperature, Pressure, and Low DC Voltage Process Tools in a Single Benchtop Instrument
The calibrator simulates and measures nine RTD and thirteen thermocouple types, accurately measures pressure to within 0.008 percent of reading when combined with Fluke 525A-P Series Pressure Modules, sources and measures dc voltage from 0 to 100 V to within 0.004 percent of reading, sources dc current from 0 mA to 100 mA, accurately measures dc current to within 0.01 percent from 0 mA to 50 mA, and supplies 24 V dc loop power.
Increase Efficiency Through Automation
For increased efficiency and calibration throughput, or to operate an automated test system (ATE), combine the 7526A with MET/CAL® Plus Calibration Management Software. The 7526A standard computer interface includes RS-232 and GPIB (IEEE-488). A USB-to-serial adapter cable is also included with the calibrator as standard.
Includes: traceable calibration report, user manual CD, getting started guide, power cord, thermocouple shorting jumper and USB-to-serial adapter cable.